'19 Kids And Counting' Star Jessa Duggar Talks Josh Duggar Cheating Scandal, Gives Update On Baby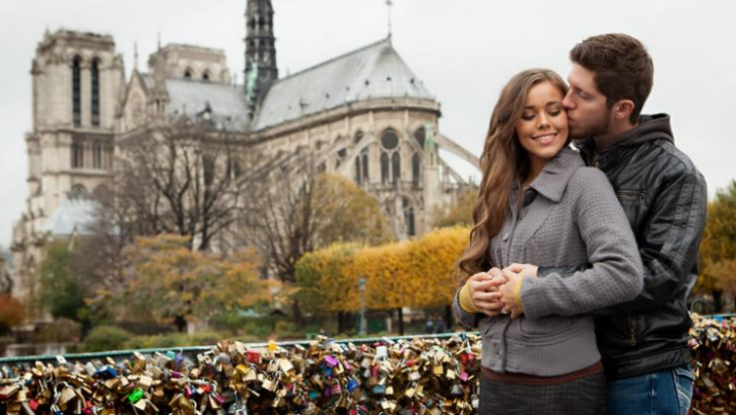 Jessa Duggar is turning to her faith as her brother Josh Duggar continues to face criticism over his cheating scandal. Josh admitted he had two accounts on the cheating site Ashley Madison and was unfaithful to his wife, Anna Duggar. The 27-year-old also apologized for an addiction to pornography. Josh's latest controversy came just three months after he admitted to molesting five underage girls when he was a teen, including sisters Jessa and Jill Duggar.
Jessa told People magazine she was relying on her faith to help get through this difficult time. "You just have to keep your focus and trust God," Jessa said, while her husband Ben Seewald added, "You have to stay true to yourself and your foundation."
The 22-year-old also briefly talked about her impending motherhood. Jessa and Ben are expecting their first child in November. "The nursery is neutral," reported Jessa, who has previously said she wants to wait to reveal the baby's gender. Jessa also told People that she hasn't had any "weird" pregnancy cravings, and when she does get the urge to indulge in "a smoothie or ice cream," she splits it with her husband.
While Jessa and Ben are in the throes of celebrating her pregnancy, Josh decided to check into rehab for his porn addiction. The father of four released a statement seeking the public's forgiveness, but it appears the entire Duggar family isn't so quick to move past his latest mistakes. Two unidentified family members told Entertainment Tonight they were "shocked and broken and furious" by Josh's confession.
One family member even said Josh had cast a "dark cloud" over the Duggar family. "It's scary. You never know who can have a double life. You really think you know someone," the family member said. "Josh was caught with his hand in the cookie jar, and I hope he gets broken in rehab and gets the help he needs."
The other family member told Entertainment Tonight nobody knew Josh had been unfaithful to Anna: "We love our family. and we are praying for Josh."
Anna's brother, Daniel Keller, also commented on Josh's cheating scandal and had some very harsh words for the reality-television star. Keller commented on a Facebook post Jessa wrote about forgiveness, saying he wouldn't stop "trying to get that pig out of our family."
© Copyright IBTimes 2023. All rights reserved.