Josh Duggar Checks Into Rehab Following Ashley Madison Hack; Duggar Family Releases A Statement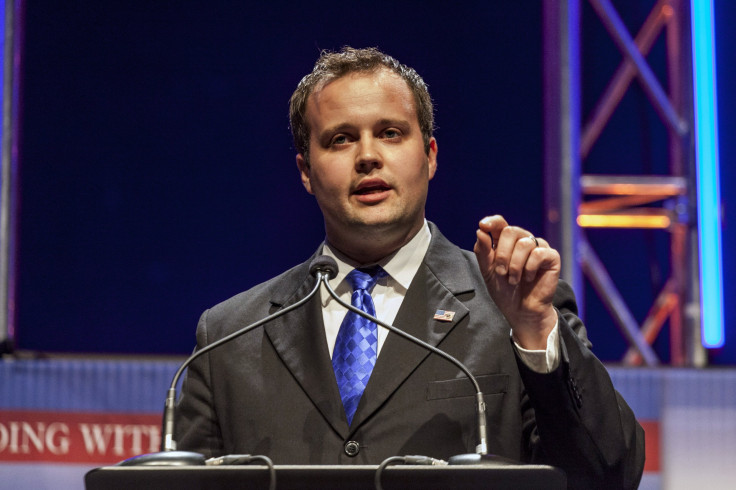 Former "19 Kids and Counting" reality star Josh Duggar has decided to seek treatment after admitting to suffering from an addiction to pornography. The father of four came forward on Aug. 20 after being exposed in the Ashley Madison hack, which released the names and information of everyone using the popular cheating site. Duggar, 27, later admitted to having been unfaithful to his wife, Anna, and leading a double life. A statement released on the Duggar family's website Wednesday suggests the eldest child of Jim Bob and Michelle Duggar has decided to seek help for his addiction.
As reported by People, Josh checked into a long-term rehabilitation center on Tuesday, hoping he can recover completely and become whole. According to the Duggar family's statement, while Josh is in the facility, Jim Bob, 50, Michelle, 49, and the rest of the reality-TV family will be rallying around Anna, 27, and the couple's four children. The statement alluded to the fact that Anna is also seeking counseling in the hopes of healing "her own heart."
"Yesterday Josh checked himself into a long-term treatment center. For him it will be a long journey toward wholeness and recovery," the statement said. "We pray that in this he comes to complete repentance and sincere change. In the meantime, we will be offering our love, care and devoted support to Anna and our grandchildren as she also receives counsel and help for her own heart and future."
The news comes just under a week after Josh spoke out about his involvement with Ashley Madison. In a statement, also released on his family's website, he called himself "the biggest hypocrite ever" and admitted to having been unfaith to Anna. He chalked his wrongdoings up to his addictions and apologized to those fans he had let down. Anna, for her part, has remained silent.
She and her children are said to be staying in one of their more secluded homes in Arkansas. The rest of the Duggar family have reportedly been spending a majority of their days locked inside the Duggar household, avoiding the outside world and further scrutiny. According to reports, Jim Bob, who sources say rules his home "like a dictator," has been doing everything in his power to control the family during this difficult time. He is said to be limiting Anna's contact with anyone outside the Duggars' immediate network.
This has not, however, kept her brother Daniel Keller from reaching out. According to Fox News, Keller voiced his strong opinions about Josh on Facebook. The Duggar brother-in-law recently replied to a post on Josh's sister Jessa Seewald's Facebook page in which the 22-year-old quoted a passage from the Bible about sin. In his comment Keller said, "You have to confess and forsake your sin to have mercy. Not sin, confess and repeat." This comment sparked a feud between Keller and other commenters, during which time he revealed he had offered to allow Anna and her children to stay with him to get away from her husband. He also called Josh a "pig."
It is not clear how long Josh will be in treatment. Neither Anna nor any of the individual Duggar siblings has addressed Josh's decision to seek treatment.
© Copyright IBTimes 2023. All rights reserved.
FOLLOW MORE IBT NEWS ON THE BELOW CHANNELS