'19 Kids And Counting' Star Josh Duggar Reportedly Moving To New House Amid Sexual Abuse Controversy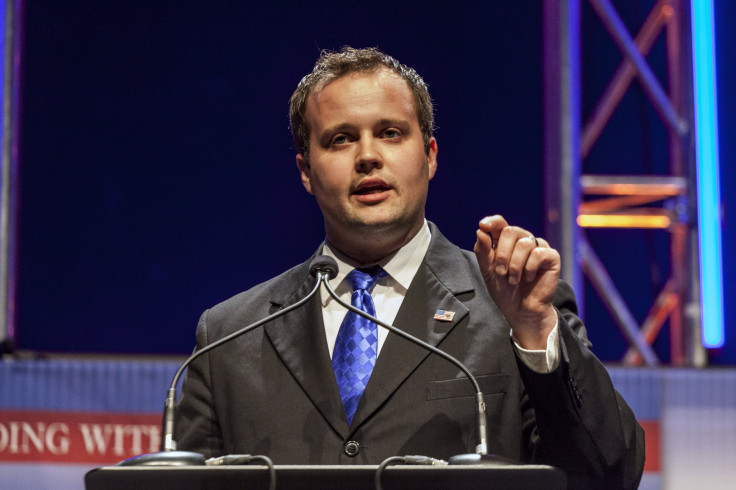 "19 Kids and Counting" star Josh Duggar may be relocating. According to reports, the 27-year-old TLC reality star is moving from his current house amid the recent sex scandal.
Us Weekly reports that moving trucks arrived to Duggar's five-bedroom home in Oxon Hill, Md. on Tuesday. The move is likely a response to the recent In Touch Weekly article that published a report from 2005 that revealed Josh Duggar was involved inappropriate acts with underage women, including his sisters, when he was still a minor himself.
It's unclear at this time where exactly Duggar is moving his family, which includes his pregnant wife Anna, their daughter Mackynzie, and sons Michael and Marcus. However, TMZ believes that the family will return home to Arkansas. After resigning from his position as Executive Director of the Family Research Council, the outlet reports there's nothing tying him to the D.C. area. He allegedly bought a house in his home state earlier this year.
Just days before the move began, Josh's sisters, Jill Duggar and Jessa Seewald, spoke on "The Kelly File" with Megyn Kelly where they somewhat defended their brother. The reality stars said that it is a thing of the past and not something worth drudging up now just because of the family's celebrity status.
"The system was set up to protect kids. Both those who make stupid mistakes or have problems like this in their life and the ones that are affected by those choices," Jessa said. "It's just greatly failed… They're not protecting us here."
Previously, Josh Duggar responded to the controversy with a lengthy post on Facebook.
"Twelve years ago, as a young teenager I acted inexcusably for which I am extremely sorry and deeply regret. I hurt others, including my family and close friends. I confessed this to my parents who took several steps to help me address the situation," he wrote. "We spoke with the authorities where I confessed my wrongdoing and my parents arranged for me and those affected by my actions to receive counseling."
© Copyright IBTimes 2023. All rights reserved.