'19 Kids And Counting' Stars Jill Duggar And Derick Dillard Announce Baby Gender Ahead Of TLC Wedding Special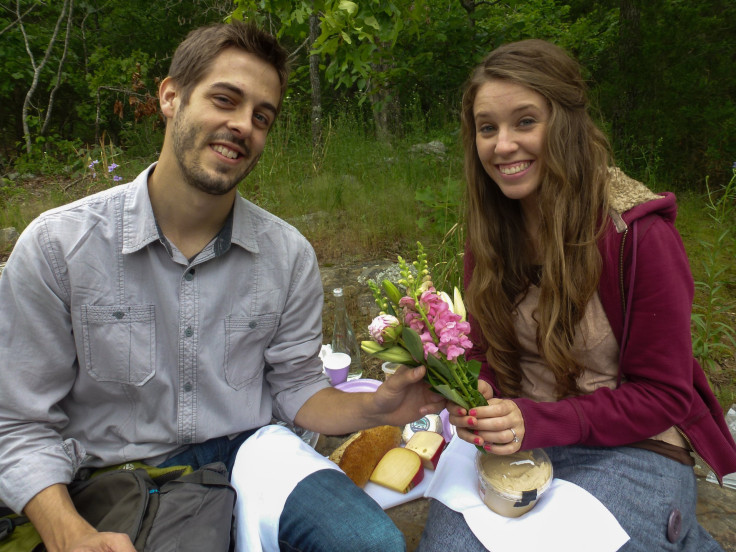 Jill Duggar and Derick Dillard are set to tie the knot on "19 Kids and Counting" next Tuesday, but in present day, the couple, who saved their first kiss for their June 21 wedding day, are already expecting their first child. Ahead of their wedding special's debut on TLC, and in celebration of Jill's 18th week of pregnancy, the couple confirmed the gender of their baby Tuesday.
According to a report from People magazine, the reality-TV couple are expecting a boy.
"I was really excited," Derick, 25, said of the gender news. "As a new dad, to have a firstborn son to be our first child and be the leader of his siblings, it is very special."
The couple reportedly learned the child's sex at a gender-revealing ultrasound last Saturday with three of Jill's siblings and co-stars in attendance. Her parents, Michelle and Jim Bob, were not in the room during the big reveal.
"There was some screaming in the room," Jill, 23, said in recalling the ultrasound. "I thought all along we were having a girl. Everyone made their guesses. … My mom and dad thought it was going to a be a boy and my grandma did, too. They are all really excited."
According to the longtime TLC star, her unborn child already takes after her accountant husband.
"He stretched out his legs full length. He was trying to be like Dad," Jill said. "We could have a giant. I called Derick's mom and she was telling me that when Derick was born, he didn't fit into the newborn clothes and his shoes were a size two."
Following the gender reveal, Jill said she is now in baby name planning mode. Unlike her family's "J" name theme, Jill said she will not give her future offspring identical initials.
"We may do some kind of theme like family names," she said.
Jill and Derick tied the knot in front of more than 1,000 family and friends in Springdale, Arkansas, in June after several months of courting. Ahead of their two-month wedding anniversary in August, the couple announced they were expecting their first child.
"It was surreal. We were shocked," Jill previously told People magazine of the pregnancy.
Jill, who is due in March, is the first Duggar family daughter to marry and produce a grandchild. Her brother Josh wed his wife Anna in 2008. The couple has three children.
The "19 Kids and Counting" Season 9 wedding special airs Tuesday, Oct. 28 at 9 p.m. EDT on TLC.
© Copyright IBTimes 2023. All rights reserved.