'19 Kids And Counting' Season 9 Spoilers: Jill Duggar Has A Baby Bridal Shower Ahead Of Wedding To Derick Dillard [RECAP]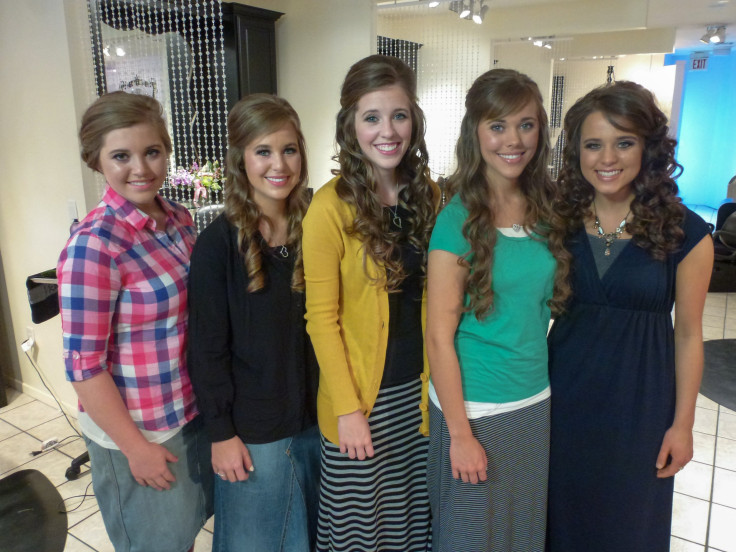 In present day, Jill Duggar is married with a baby on the way, but on the latest episode of "19 Kids and Counting," she was still one week away from her nuptials to accountant and former Nepal missionary Derick Dillard. After weeks of planning their Arkansas wedding, Jill, 23, celebrated her impending marriage with her family and friends on Season 9 episode 12 of the TLC's reality-TV series Tuesday night.
In "All About Jill," the fourth eldest Duggar child and second eldest daughter was treated to a bridal shower brunch with some special guests. Not only did her eight sisters and mom Michelle Duggar, 47, attended the soirée, dozens of the midwifery student's former customers and their babies also paid a visit to the bride-to-be. The party was hosted by her wedding coordinator Venessa.
Jill said she was thrilled by the unique array of guests at her celebration.
"It is so much fun to see all of the mothers and the babies that I've either helped during their pregnancy or the birth and just getting to see all of them at one time is just so much fun," Jill said.
One moment from the party that the bride-to-be was clearly not a fan of -- her guest's decision to have her pose for a photo with all of the 50-plus babies in attendance.
"There were a lot of baby noises going on," said Jill. "Crying, cooing, and once one starts, they all start."
Jessa, 21, who is the next Duggar in line to walk down the aisle, said the photo shoot was a loud, yet entertaining affair.
"The noise level was like through the roof. It was comical," she said. "These moms are all putting their babies in there and then holding them up behind the couch and half the kids are screaming."
While Jessa was busy laughing during the celebration, Michelle, whose husband Jim Bob did not attend the party, got teary-eyed when talking about her daughter's plans to tie the knot.
"I can't believe that Jill is about ready to walk down the aisle. It just seems like yesterday she was little and now she's all grown up. It's kind of surreal. I mean, I'm joyful and I'm happy but it's like, where did the time go? I blinked and here we are," she said.
"It's really crazy to think that Jill's getting married and we are already having bridal showers for her," Jill's sister and longtime "buddy system" member Joy-Anna, 16, added.
"All About Jill" continued with a walk down memory lane of Jill's six years on the hit TLC series and her televised courtship with Derick, 25. Derick first became acquainted with the Duggar family after becoming a prayer partner with Jim Bob. After over a year of communicating with the family's matriarch, he was introduced to Jill. The couple courted for several months before becoming engaged last November.
The duo tied the knot in front of over 1,000 family and friends in Springdale, Arkansas, June 21. After less than two months of marriage, they announced they were expecting their first child together in August. On Tuesday, the couple confirmed they're expecting a baby boy due in March.
"19 Kids and Counting" airs Tuesdays at 9 p.m. EDT on TLC.
© Copyright IBTimes 2023. All rights reserved.