2 Florida Students Arrested For Carrying Knife On School Grounds
The Collier County Sheriff's office confirmed they arrested two students Monday for allegedly carrying a knife at school and causing disruption.
Police officials arrested 18-year-old Benjamin Mendoza at Palmetto Ridge High School in Collier County, Florida. He was arrested after "someone who was concerned" reported him to the authorities.
The person who reported him remained unidentified but said Mendoza brought a gas mask to school Feb. 15, a day after 19-year-old Nikolas Cruz opened fire in a Broward County school, claiming 17 lives, NBC-affiliated television station WBBS-TV reported.
Reports stated, in addition to this, Mendoza was also accused of making "disturbing comments about the Las Vegas shooting."
Apart from the weapon, authorities also found other concerning items while going through his bag. Police discovered a list of students' names, and a drawing depicting a student with bullet holes, captioned "dead haha dead."
Investigators also found "a notebook containing content depicting students as victims of murders, a map of the high school, and a note that said, 'shoot up the school,'" along with a fake Los Angeles Police Department badge.
The Collier County Sheriff's office also arrested 13-year-old Camden Massiate on the same day from Corkscrew Middle School in Naples, Florida, for carrying a knife in the school premises. Reports stated Massiate was arrested after investigators found the knife in his locker.
According to the authorities, Massiate allegedly posted pictures of the weapon on social media over the weekend, after which Collier County Sheriff's Office Youth Relations Bureau searched the teenager's locker.
However, Massiate had made no threats along with the photos of the weapon he posted.
The investigations in these cases are still ongoing and both Mendoza and Massiate were charged with possession of a weapon at school on school grounds.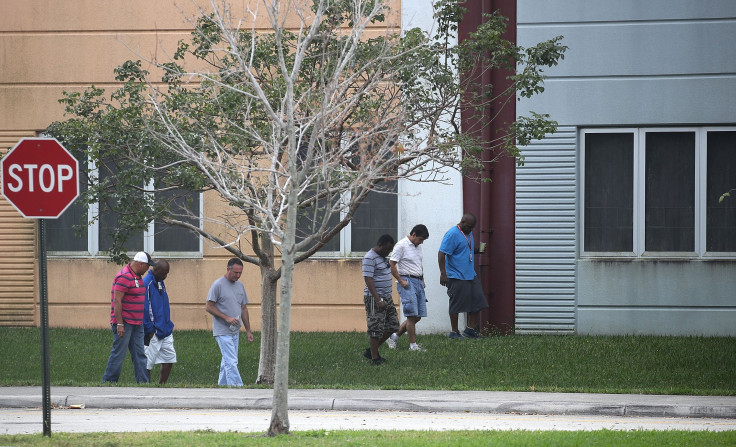 The news about these arrests of Florida students came just a few days after the United States was rocked by a mass shooting at Marjory Stoneman Douglas High School in Parkland on Feb. 14.
Following the attack, several people called for better gun control laws and to further the cause, Women's March Sacramento Youth Program and Women's March Youth EMPOWER organized a National School Walk-Out to protest "Congress' inaction" against gun violence. The march will take place March 14.
Emma Gonzalez, a senior at Marjory Stoneman Douglas High School, spoke at a gun control rally in Fort Lauderdale, Florida.
"Every single person up here today, all these people should be home grieving. But instead we are up here standing together because if all our government and President can do is send thoughts and prayers, then it's time for victims to be the change that we need to see. Since the time of the Founding Fathers, and since they added the Second Amendment to the Constitution, our guns have developed at a rate that leaves me dizzy. The guns have changed, but our laws have not," Gonzalez said in her speech.
© Copyright IBTimes 2022. All rights reserved.
FOLLOW MORE IBT NEWS ON THE BELOW CHANNELS