20,000 Acres Burned, 8,000 People Evacuated As Apple Fire Burns Through California
KEY POINTS
The wildfire, dubbed the Apple Fire, reportedly started as three separate brush fires in Cherry Valley that converged and rapidly grew on Friday
California officials said the surrounding terrain and ideal weather conditions allowed the fire to grow over the weekend and prevented fire crews on the ground from adequetly fighting back the blaze
By Monday, over 20,000 acres had been burned and around 8,000 people had been evacuated
As many as 8,000 people have been evacuated from their homes as of Monday as California fire crews continued battling a massive wildfire that burned through two counties over the weekend.
The California Department of Forestry and Fire Protection said the blaze, dubbed the Apple Fire, has burned over 20,000 acres between Riverside and San Bernardino counties since the fire started on Friday. Crews had only managed to contain around 5% of the fire as it continued pushing into residential areas and began threatening the San Bernardino National Forest.
The fire started Friday in Cherry Valley around 5 p.m., reportedly as three different brush fires. The blaze rapidly grew and engulfed nearly 2,000 acres and forced authorities to issue evacuation orders around 10 p.m. Friday to Cherry Valley residents. It grew over the weekend, aided by terrain state officials said made it more difficult to contain the fire.
"We've got extremely steep, rugged terrain. We have many different drainages that are all kind of intersecting together and that creates these funneling effects of different wind patterns and creates more erratic fire behavior," San Bernardino National Forest fire information officer Lisa Cox told reporters.
"And with that, we have very thick brush including this really flammable ecosystem called chaparral that likes to burn and it hasn't burned here in a long time."
The fire grew to such a degree the National Weather Service said smoke from the fire was visible over parts of western Arizona.
Fire crews not directly combating the fire have been stationed in various neighborhoods in the fire's projected path should they need to be evacuated, which some residents said has loomed over their area for the whole weekend.
"The fire burned north of us for quite some time and eventually it worked its way over here," Riverside County resident Doug Hammer told Los Angeles CBS-affiliate KCBS. He said there is growing fear in his neighborhood as the fire continued to spread, pointing to fire trucks stationed by a local ranch.
"There's a fire truck sitting among the trees over there next to the home," Hammer said.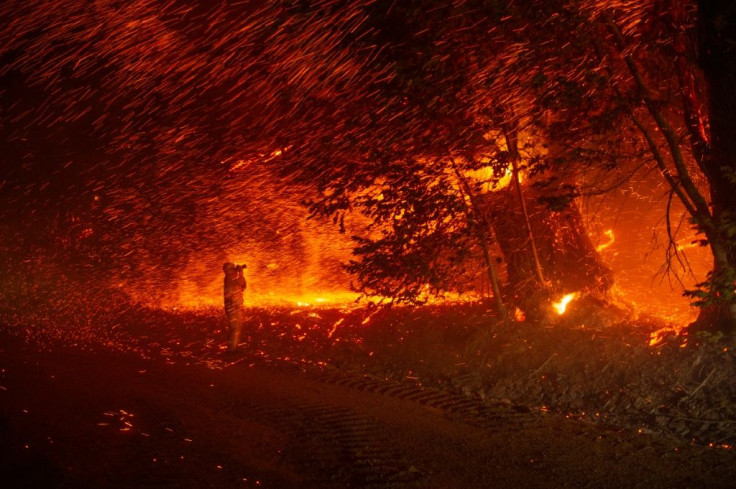 © Copyright IBTimes 2023. All rights reserved.
FOLLOW MORE IBT NEWS ON THE BELOW CHANNELS