2014 World Cup Dives: Does The USA Team Flop On Purpose?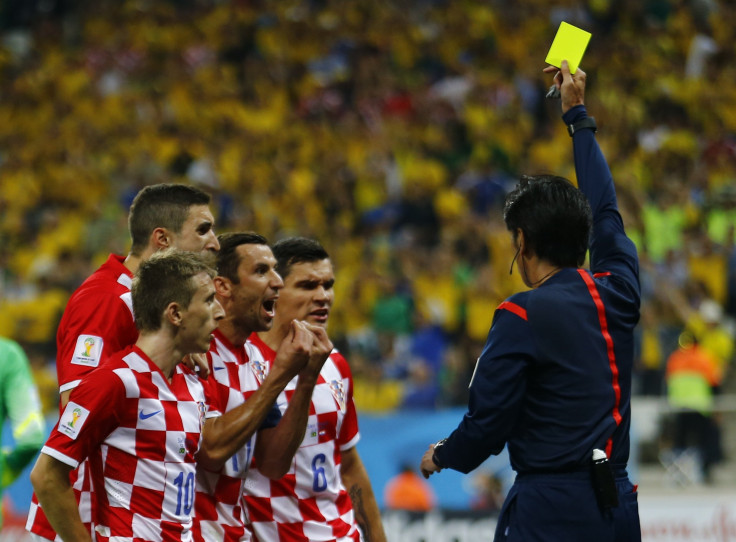 As the United States revels in its 2-1 revenge win over Ghana in the teams' Monday evening World Cup opener, a debate has begun over whether the Americans are above the flopping fray. At the 2014 World Cup, dives are back as a heated argument of debate between soccer fans -- but are Americans as guilty of it as other teams?
Flopping has long been a tactic employed successfully by many players to get penalties called against their opponents. It often works, but it's hardly sportsmanlike to deliberately try and fool the referee.
The Americans have built a reputation among some observers for taking the high road and not flopping, loosely defined as exaggerating light (or even nonexistent) contact with a dramatic, and visible by the referee, dive.
The dubious tactic (it can backfire, too: a player can get a yellow card for faking a foul) has come under heavy scrutiny since the first match of the 2014 World Cup in Brazil, during which Frederico "Fred" Chaves Guedes, a Brazilian forward, took a dive in Croatia's penalty area, flailing his body to ensure the referee saw it.
Brazilian fans seemed to believe the performance, and so did referee Yuichi Nishimura, who would endure heavy criticism for the call. He awarded a penalty kick against the Croatians, who were incredulous at the decision. Brazil's Neymar converted the penalty and put Brazil ahead 2-1, en route to his team's controversial 3-1 win.
To many top soccer players, flopping is simply a critical tool in any team's toolbox, seen more as a necessary part of the game than some kind of scourge to be eradicated. The American team takes the flip side of the argument to its detriment, according to the current school of thought heralded at length in a recent New York Times article, seen as an opening salvo in a renewed discussion about Team USA and flopping.
"You can hate Fred, you can say it's cheating, but Brazil maybe gets out of the group because of that decision," Kyle Martino, a former Major League Soccer player with a reputation for flopping who played for the American team internationally, told the Times. "So if you're the U.S., at what point do you say, If you can't beat 'em, join 'em?"
It's a valid question, but many fans and players both current and former say that the Americans -- like the English, who face potential elimination in Thursday's match against Uruguay -- refuse to succumb to the pressure to trade their principles for a few calls.
It's a conversation that's been going on for years and seems to be reinvigorated every time the World Cup rolls around. In 2010, when the Cup was held in South Africa, Gregg Doyel of CBSSports.com weighed in on the topic, explaining his belief that Americans don't flop for ethical reasons.
"For the sake of this story, I care about the honor of our soccer team," he said. "I care about our ethics. About our sense of fair play. I care that we don't flop like fish."
It's a story line that has historically had plenty of traction. But in the wake of the Times piece extolling the supposed virtuous stance Team USA has taken on the issue of flopping, the issue has been examined further, and the consensus has been challenged as more a myth than a truism.
In a Thursday piece provocatively titled "The New York Times is wrong. USA soccer players flop, just like everyone else," GlobalPost's Timothy McGrath argued just what the headline promised.
"American players dive. English players dive. European, African, Latin American, Asian players dive," he wrote. "It doesn't matter where you're from. And when a player dives, it says absolutely nothing about his country, its people, and their culture."
The piece goes on to include eight videos of American team members flopping, as well as one of a dive by Jurgen Klinsmann, the German coach of this year's American squad, while playing for Germany in the team's 1990 World Cup-winning match against Argentina.
In other words, it's far from a foregone conclusion that Team USA doesn't flop. When watching its upcoming matches against Portugal and Germany, supporters can make up their own minds on the topic.
© Copyright IBTimes 2023. All rights reserved.