2016 Republicans Pataki, Graham Would Monitor Mosques To Battle 'Islamic Extremism'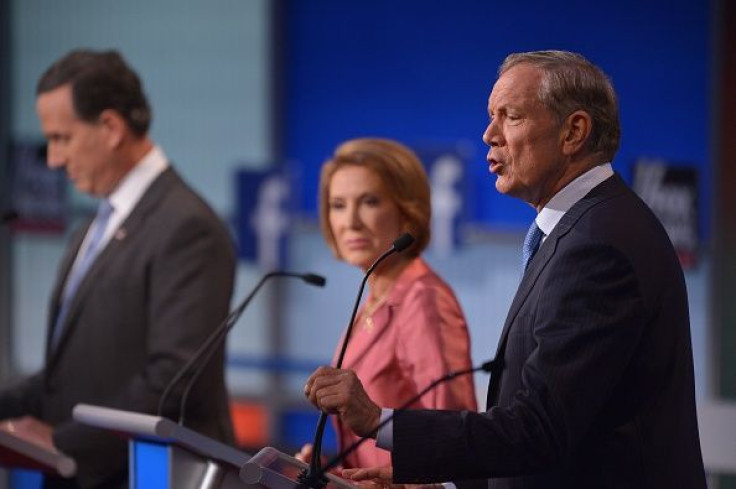 Former New York Gov. George Pataki said Thursday during a preliminary Republican candidate forum that as president he would not be deterred from shutting down individuals suspected of spreading and promoting radical ideologies in the United States. Pataki, who mentioned several times that he was the governor of New York during the Sept. 11 terrorist attacks, drew a contrast with himself and President Barack Obama for his willingness to use the term "Islamic extremists."
"Religious liberty doesn't include encouraging a fellow American to engage in violent jihad and killing a fellow American here...that is like shouting 'fire' in a crowded theater," Pataki said, responding to the question of how far he would go to route out extremism in the country, and whether or not he would be comfortable monitoring a mosque. "I would do everything" to stop people "before they can radicalize others," he added.
South Carolina Sen. Lindsey Graham, several minutes later, was more direct when giving his opinion on surveillance. "If I have to monitor a mosque, I'll monitor a mosque," Graham said.
The candidates participating in the forum Thursday make up the seven lowest polling candidates in the large Republican field vying for their party's nomination. The debate started out almost immediately with questions posed to the lower-tier candidates about the current Republican front-runner, Donald Trump, and how they think they can compete when they are currently so far behind the leaders in polls.
A later debate will feature the top ten polling candidates in the race, including Trump and other high-profile candidates like former Florida Gov. Jeb Bush, Florida Sen. Marco Rubio and Wisconsin Gov. Scott Walker. That event is at 9 p.m. EST.
© Copyright IBTimes 2022. All rights reserved.
FOLLOW MORE IBT NEWS ON THE BELOW CHANNELS