2016 Rio Olympics: 23 Rap Songs That Mention Michael Phelps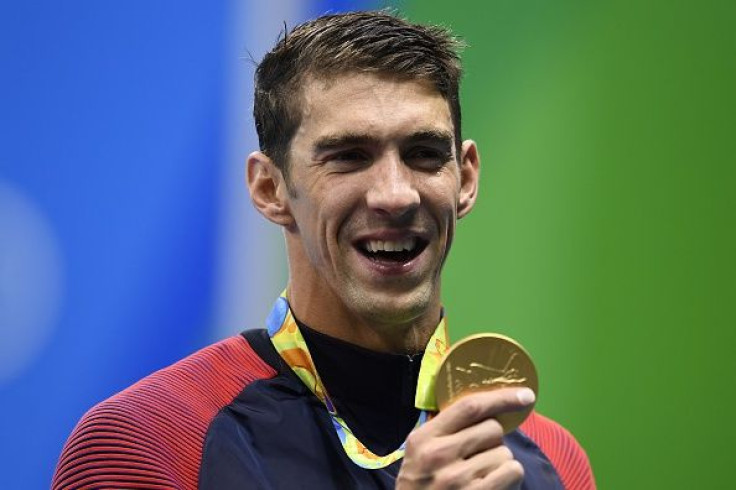 After winning gold in the Men's 4x100 freestyle relay at the second day of the 2016 Summer Olympics on Sunday, Michael Phelps will continue his quest for more medals on Aug. 10 in the Men's 200m indiviual medley and Aug. 11 in the Men's 100m butterfly.
With 23 medals to his name, it's Phelps' medal count that makes him a favorite among rappers. Check out these 23 hip-hop songs that have mentioned Michael Phelps.
1. The Game featuring 2 Chainz and Rick Ross - "Ali Bomaye"
"Hit you right above navel, now you swimming in pavement / Gold medals on my neck, I call it Michael Phelps."
2. Wiz Khalifa featuring Juicy J and Chevy Woods - "Medicated"
"Get a whole pound smoke it by myself / Or maybe after Olympics with my homie Michael Phelps."
3. Kanye West featuring Big Sean, 2 Chainz and Marsha Ambrosius - "The One"
"If you ever held a title belt, you would know how Michael felt / Tyson, Jackson Jordan - Michael Phelps."
4. Big Sean featuring Common - "Switch Up"
"Aura Gold, everything I do I do it overboard Michael Phelps splash."
5. Metta World - "Champions"
"I'm so Dale Earnhardt, I'm so Michael Phelps / So many gold medals, too many title belts.
6. Kendrick Lamar featuring Black Hippy - "Swimming Pools (Remix)"
"Then dive in a pool full of liquor / Swim laps like Michael Phelps."
7. Mac Miller - "Knock Knock"
"In deeper than the water Michael Phelps was in."
8. Lil Wayne - "Ice Cream"
"Concrete shoes won't help in the river / I don't care if you was Michael Phelps my n----."
9. Akon featuring Lil Wayne and Jeezy - "I'm So Paid"
"Gold chains around my neck just like Michael Phelps."
10. Migos - "No F----- Wit"
"And I'm successful, Michael Phelps in my bezzle."
11. Hoodie Allen - "#WhiteGirlProblems"
"Michael Phelps got white girl problems."
12. Schoolboy Q featuring Ab-Soul and Kendrick Lamar - "Warning Shot"
"All by myself, ask Michael Phelps / Bean pies and Philadelph."
13. Rich Homie Quan - "Can't Help It"
"I got my Nikes tied, Money what I taste / And I'm blazed so Michael Phelps me!"
14. Jeremih featuring Migos - "Don't Tell Em (Migos Remix)"
"I'm Michael Phelps, won a gold medal"
15. Currensy featuring Riff Raff - "Froze"
"I'm Michael Phelps with the gold medallions / I pulled a couple stallions, my rims rattle."
16. Wale featuring Jazmine Sullivan - "World Tour"
"It's how it's dealt, I've been over more water than Michael Phelps."
17. Ace Hood - "Wanna Beez"
"Neck full of gold pieces, Michael Phelps had."
18. Ludacris - "Southern Gangsta"
"And mac-11's that leave you wetter than Michael Phelps."
19. Action Bronson - "Night Court"
"I'm stroking like I'm Michael Phelps."
20. Chiddy Bang - "Dream Chasin'"
"But I'm still Michael Phelps: swimming in my lane."
21. Gucci Mane - "Ride Around The City"
"Soon as I enter her, I feel her body melt / The thing is super weird, I feel like Michael Phelps."
22. Dave East - "Call My Coach"
"I'm just tryna swim out, play that water like Michael Phelps."
23. Crooked I featuring Melody Angel and Trae Tha Truth - "N----- Winnin"
"Swear I was Michael Phelps so I dive these freaks."
© Copyright IBTimes 2023. All rights reserved.