3 COVID-19 Tests Are Needed To Ensure You Don't Have Virus, FDA Says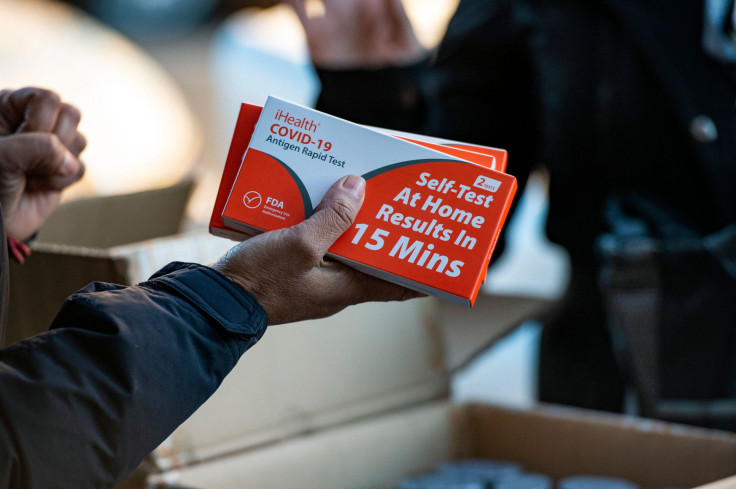 The Food and Drug Administration (FDA) is recommending that people take three at-home antigen tests before determining that they are negative for COVID-19.
The agency said this can prevent a false-negative result as well as prevent people from unknowingly spreading the virus to others.
Repeat testing should be performed over the course of two to three days, 48 hours apart, regardless of if a person has COVID symptoms, the FDA said. The same brand of test does not have to be used for multiple testing, it added.
This is a departure from the FDA's previous guidance of taking two at-home COVID antigen tests to determine an accurate negative result.
The reason for the FDA's new recommendation is due to at-home antigen COVID-19 tests being less likely to detect the virus than a PCR test, which is performed in a lab, especially in people that are not displaying symptoms of the virus. The FDA has given consumers the go-ahead to use more than two dozen at-home COVID tests for use during the pandemic.
The recommendation from the FDA on repeat COVID testing comes amid a new study published on MedRxiv that followed over 7,000 people for 14 days, which revealed that repeat antigen testing provided a better chance for accurate test results. In the study, 79% of asymptomatic participants tested positive with three tests, compared to 63% with only two tests in 48 hours.
The FDA maintained that COVID-19 antigen tests are expected to detect the virus at least 80% of the time in people who are infected but added that false-negative results do occur if a person tests too soon, especially without symptoms.
The federal government has allotted every American household three rounds of at-home COVID antigen tests for free and delivered by U.S. Post Office. Americans can order them at CovidTests.gov.
© Copyright IBTimes 2023. All rights reserved.