34 Years After Elvis Presley's Death, the Legendary Singer Still Lives on Through Fans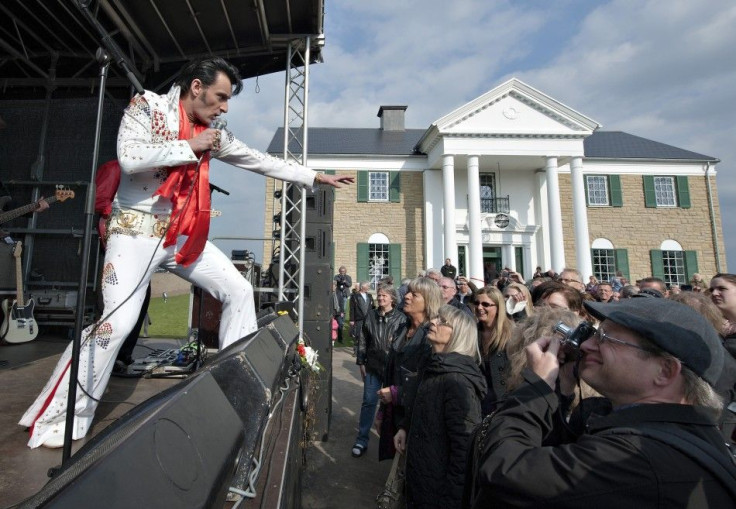 Thousands of fans of Elvis Presley a.k.a. "The king Of Rock and Roll" have gathered at Graceland to pay homage to the rock-and-roll star who died undermysterious circumstances exactly 34 years back.
Despite three decades having passed after Presley's death, his fans still remember and mourn for him.
Elvis Aaron Presley (1935-1977), also known as "King of Rock and Roll," is considered as one of the most important and popular figures of popular culture.
A versatile voice of Presley could control many genres, including country, pop ballads, gospel, and blues.
During his life, Presley was nominated for 14 Grammys and won 3. He also won the Grammy Lifetime Achievement Award when he was 36 and was inducted into four music halls of fame.
However, Presley led a degenerated life, abusing drug, eating junk food and having a lot of romantic partners.
Twice in 1973, he overdosed on barbiturates, spending three days in a coma in his hotel suite. His Demerol addiction made him semicomatose and forced him to be hospitalized.
During the latter years of his life, Presley became over-dependent on drugs and became bloated and slow and dull and he could hardly pull himself through his abbreviated shows. Many fans remember him speaking gibberish and he was a shadow of his former energetic self.
Drug abuse also made him suffer from multiple ailments including glaucoma, high blood pressure, liver damage, and an enlarged colon.
In the afternoon of August 16, 1977, Presley's girlfriend Ginger Alden discovered Presley unresponsive on his bathroom floor. Several attempts to revive him failed and the iconic singer was officially pronounced dead at 3:30 pm at Baptist Memorial Hospital.
Thirty-four years later, thousands of mourners gathered in Graceland to hold a candlelight vigil from Monday late night till early morning on Tuesday to commemmorate Presley's 34th death anniversary. The annual vigils began in 1982 and become an event since then.
Although it has been 34 years that "The King" is gone, his music still draw crowds and he continues to live on through his fans.
On Tuesday many Twitter users tweeted to pay rich tributes to Elvis Presley:
The King is always the King! Elvis Presley - @reverbcity
I miss him...Diario El Periodiquito - Hoy se cumplen 34 años de la muerte de Elvis Presley - @caramos61
Unbelievable! Elvis Presley died 34 yrs ago today! RIP The King. - @Pompeyboy66
If the tweets are any indication, though Presley has been gone for a long time, yet we can't dismiss the fact that he is one of the most popular singers ever to dominate the music industry.
What do you think? Is Elvis Presley the greatest music artist ever?
© Copyright IBTimes 2023. All rights reserved.