42 Horrible Things Donald Trump Has Said About Women: Is The Next Republican Presidential Nominee A Misogynist?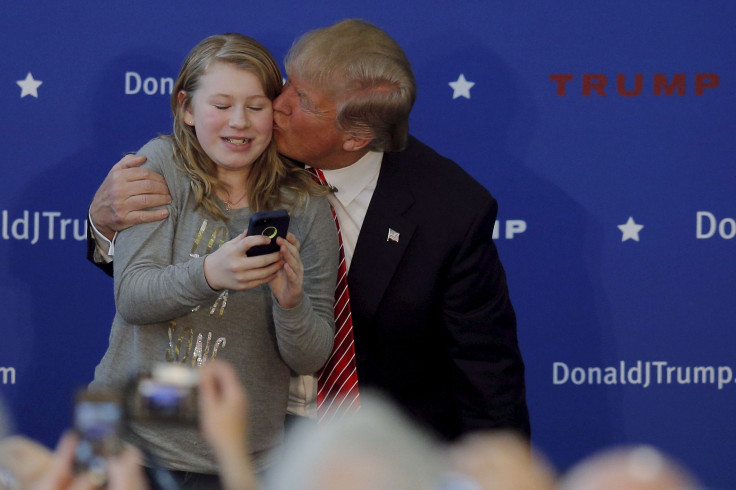 Donald Trump versus Jennifer Lopez. Donald Trump verus Rosie O'Donnell. Donald Trump versus Megyn Kelly. Donald Trump versus Arianna Huffington. Donald Trump versus Heidi Klum.
The list of public feuds between the Republican presidential front-runner and a high-profile woman grew longer Tuesday as The Donald launched a war against a political journalist who filed a criminal compliant against his top aide after he forcefully grabbed her after a campaign speech.
Trump sought to discredit Tuesday Michelle Fields, a reporter who was working for the conservative outlet Breitbart when she was allegedly attacked, in a series of Twitter rants and in a campaign speech. "When she found out there was a tape from my facilitate, she changed her tune," Trump said on Twitter. Trump went on: "Victory press conference was over. Why is she allowed to grab me and shout questions? Can I press charges?"
Fields alleges she was grabbed by Corey Lewandowski, Trump's campaign manager, during a March 8 campaign stop. She took to Twitter to share a picture of bruises on her arm she alleged were left by Lewandowski and has filed criminal charges against him in Florida. She responded to Trump's charge Tuesday on Twitter, insisting that her "story never changed." Lewandowski reportedly attacked Fields amid reports of growing violence at Trump campaign rallies from his supporters aimed at protesters.
Trump's animosity toward Fields and his unwilliness to back down might not be surprising given his history of attacking anyone who might be perceived as a foe or, really, just women in general. Trump has often made retorts suggesting women should solely be judged by their appearance and dismissed powerful women critical of his antics.
Below are 42 of the most horrible and sexist remarks to come from the man who could be the next Republican presidential nominee:
"I would never buy Ivana any decent jewels or pictures. Why give her negotiable assets?"
"Beauty and elegance, whether in a woman, a building, or a work of art, is not just superficial or something pretty to see."
" 26,000 unreported sexual assults in the military-only 238 convictions. What did these geniuses expect when they put men & women together? "
"It's certainly not groundbreaking news that the early victories by the women on 'The Apprentice' were, to a very large extent, dependent on their sex appeal."
"You know, it doesn't really matter what [the media] write as long as you've got a young and beautiful piece of ass."
"You wouldn't have your job if you weren't beautiful."
"The most difficult aspect of the prenuptial agreement is informing your future wife (or husband): I love you very much, but just in case things don't work out, this is what you will get in the divorce. There are basically three types of women and reactions. One is the good woman who very much loves her future husband, solely for himself, but refuses to sign the agreement on principle. I fully understand this, but the man should take a pass anyway and find someone else. The other is the calculating woman who refuses to sign the prenuptial agreement because she is expecting to take advantage of the poor, unsuspecting sucker she's got in her grasp. There is also the woman who will openly and quickly sign a prenuptial agreement in order to make a quick hit and take the money given to her."
"Women have one of the great acts of all time. The smart ones act very feminine and needy, but inside they are real killers. The person who came up with the expression 'the weaker sex' was either very naive or had to be kidding. I have seen women manipulate men with just a twitch of their eye — or perhaps another body part."
"If Hillary Clinton can't satisfy her husband what makes her think she can satisfy America?"
"[Angelina Jolie's] been with so many guys she makes me look like a baby... And, I just don't even find her attractive."
"While @ BetteMidler is an extremely unattractive woman, I refuse to say that because I always insist on being politically correct. "
Rosie O'Donnell is "crude, rude, obnoxious and dumb."
"My favorite part [of 'Pulp Fiction'] is when Sam has his gun out in the diner and he tells the guy to tell his girlfriend to shut up. Tell that bitch to be cool. Say: 'Bitch be cool.' I love those lines."
New York Times columnist Gail Collins recalled: "During one down period, I referred to him in print as a 'financially embattled thousandaire' and he sent me a copy of the column with my picture circled and 'The Face of a Dog!' written over it."
"Cher is somewhat of a loser. She's lonely. She's unhappy. She's very miserable."
"All of the women on 'The Apprentice' flirted with me — consciously or unconsciously. That's to be expected."
"Robert Pattinson should not take back Kristen Stewart. She cheated on him like a dog & will do it again – just watch. He can do much better!"
"Ariana Huffington is unattractive, both inside and out. I fully understand why her former husband left her for a man – he made a good decision."
"If I were running 'The View', I'd fire Rosie O'Donnell. I mean, I'd look at her right in that fat, ugly face of hers, I'd say 'Rosie, you're fired.'"
"I've said if Ivanka weren't my daughter, perhaps I'd be dating her."
"I think the only difference between me and the other candidates is that I'm more honest and my women are more beautiful."
"Lyin' Ted Cruz just used a picture of Melania from a shoot in his ad. Be careful, Lyin' Ted, or I will spill the beans on your wife!"
"Look at that face. Would anybody vote for that? Can you imagine that, the face of our next president?! I mean, she's a woman, and I'm not s'posedta say bad things, but really, folks, come on. Are we serious? "
"How much money is the extremely unattractive (both inside and out) Arianna Huffington paying her poor ex-hubby for the use of his name?"
"You could see there was blood coming out of her eyes, blood coming out of her — wherever. "
"Heidi Klum. Sadly, she's no longer a 10."
"She was gonna beat Obama. I don't know who would be worse, I don't know, how could it be worse? But she was going to beat -- she was favored to win -- and she got schlonged, she lost, I mean she lost. "
"She's back there, little Katy...a third-rate reporter. "
"Can you imagine the parents of Kelli ... when she said, 'Mom, Dad, I just fell in love with a big, fat pig named Rosie?' "
"She is a dog who wrongfully comments on me."
"It must be a pretty picture, you dropping to your knees."
"Why does she keep interrupting everybody?"
"I bet you make a great wife."
"We're all a little chubby but Rosie's just worse than most of us. But it's not the chubbiness — Rosie is a very unattractive person, both inside and out."
"Rosie's a person who's very lucky to have her girlfriend. And she better be careful or I'll send one of my friends over to pick up her girlfriend, why would she stay with Rosie if she had another choice?"
"A person who is flat-chested is very hard to be a 10."
"Her ass is too fat."
"Well, you never get to the face because the body's so good."
"How do the breasts look?"
"And the girls—we're supposed to call them women, but they're girls to me ."
"I find women to be much more aggressive than men. In fact, many of the people that are in my company and that I hire are women. I find women to be far more aggressive—and, sexually, far more aggressive—than men. "

"You have to treat 'em like shit."
© Copyright IBTimes 2023. All rights reserved.