4th Of July As Celebrated By Expats: Independence Day For Independent Americans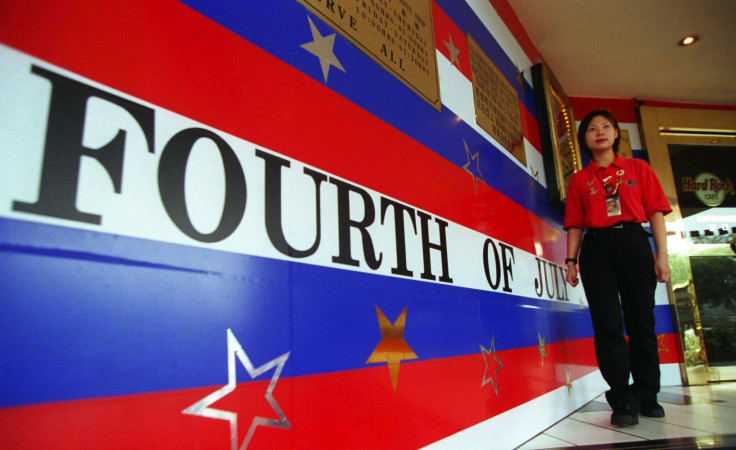 Here's an Independence Day Mad Lib for you. Go on. Fill it out in your head.
Each 4th of July I put on my ______ (article of clothing), meet up with ______ (person or persons) and go to ______ (place) for our annual Independence Day celebration. We bring _____ (item), ______ (item) and ______ (item) and spend the entire day _____ (verb ending in ing). Of course, we always celebrate with a lot of _____ (plural noun) and don't come home until we've ______ (activity).
Chances are your answers in this rendition of the classic American word game fall in line with those of most other Americans. We put on patriotic clothing (like those ubiquitous Old Navy "Flag Tees") and celebrate with friends, family and adoring pets. We go to backyard barbecues, rooftop parties and overcrowded public parks. We bring copious amounts of food (hot dogs, hamburgers, ribs, potato salad, ambrosia salad, coleslaw, fried chicken, mac and cheese, and rocket popsicles), supplies (plastic cutlery, red-and-white-checkered tablecloths, themed napkins, the blanket that already has a stain, sparklers, Magic Black Snakes), beer (PBR, Budweiser, Coors -- nothing too fancy) and, if it's one of those parties, a vodka-laced watermelon.
Then, we spend the entire day watching or playing sports, consuming the fruits of our labor and toasting our founding fathers. We don't come home until we've smelled the sweet victory of bursting fireworks and gained a minimum of five pounds (or more if your name is Joey Chestnut and you eat nearly 70 hot dogs at Coney Island each year to make a living).
But what if you don't live in the United States? What if there are no baseball games, fireworks or rip-roaring parades. What if a bucket of PBR is out of the question and the weather outside is too cold for a barbecue. What then? What do those millions of Americans who live beyond the reach of Uncle Sam do each year on the 4th of July?
For that special breed of American known as the expat, America's Independence Day is just another day at the office. But that doesn't mean they let the holiday pass them by.
Tell Me, What's In Your Bag Of Stereotypes?
Nebraska native Dan Prescher, special projects editor at International Living, has what some might call a dream life. He and his wife, Suzan Haskins, spend winters under the Yucatan sun in Mérida, Mexico, and summers 8,000 feet up amid the cool Andean breezes of Cotacachi, Ecuador. The pair has lived abroad for more than a decade now, and Prescher said that even if expats don't find it terribly important, they still get together to celebrate uniquely American holidays like Thanksgiving and the 4th of July.
"Expats don't give up their national identities when they move abroad," he explained in an email from Cotacachi. "No matter where expats go or how great their lives are, they still get nostalgic for the Old Country and like to preserve their traditions and celebrate their holidays. Expats from all countries throughout history have done so everywhere they've gone. U.S. expats are no different."
According to the Association of Americans Overseas, there are more than 6.3 million U.S. citizens (excluding military) living outside the country, and many gather together each year to replicate the standard holiday activities and "create a bit of that homey feeling," as Prescher put it.
Most Americans who celebrate Independence Day under a different flag do so within their local community -- expat meet-up groups, diplomatic posts -- or with organizations like the American Chamber of Commerce. The Democrats Abroad and Republicans Abroad, meanwhile, show rare moments of unity by throwing joint, nonpartisan events that Uncle Sam would surely be proud of.
In places like London, Paris and Rome with large expat communities, celebrations can grow into the thousands. Elsewhere, they can be as small as a few friends with a miniature flag and a bag of Big Macs.
Either way, Joshua Wood, president of Expat Exchange, said there are a variety of reasons why these globetrotting Americans find a need to celebrate their traditional holidays. "Some have not fully settled in to the culture of their destination country and find a sense of comfort in the celebrations. Others have their culture so strongly ingrained in their sense of identity that it would be blasphemous not to celebrate. And others just think it sounds like fun."
Another group of expats, he added, have made the decision that they don't want to be dependent upon other expats or their home culture while living abroad. "This group not only rejects the idea of celebrating the holidays from home, but also the very idea of settling into a group of expats for social support."
Those of the former mindset offer an amusing reflection on what it is that should be deemed certifiably American. These expats, after all, are our ambassadors, living on the outside and sharing their views of the real America with everyday non-Americans the world over. And one thing is certain: Foreigners don't stereotype us nearly as well as we stereotype ourselves.
Indeed, expat 4th of July celebrations can be an exercise in self-deprecation. An event in Sydney, for example, expects the more than 1,000 guests who plan to attend to "dress American," lest they pay an entrance fee to the party. The event flyer makes no mention, however, of what exactly "dressing American" might look like.
Several of the popular 4th of July parties in Asia, meanwhile, adopt a Texan theme, as if to take Americana to its biggest and boldest extreme. That's certainly the case in Shanghai, where one of the more popular celebrations kicks off at Stubb's Bar-B-Q. The expat favorite recently transported its authentic Southern-style cooking all the way from Lubbock, Texas, and is gearing up for its first annual 4th of July blowout.
"We have a four-day event this weekend with fireworks -- which the Chinese do especially well -- U.S. flags, U.S. flag paste-on tattoos and all types of American swag, including small personal flags, scarves, hats and live music everyday in the true Stubb's tradition," bragged Greg Walther, CEO of AmRest China, the company that brought Stubb's to Shanghai. Line dancing, barbecue plates, half-price Budweiser and "a few songs to celebrate the home of the brave" (from the heart of China) are also in the cards.
Singapore got the "go big or go home" memo, too. The local American Club honored the stars and stripes with a poolside Texas-style barbecue Thursday, replete with a jazz band and face painting. Playing on the theme, the Club is also hosting a two-week-long "Atomic Hot-Wings Eat Off." The winner gets a $200 voucher to eat more food. Suffice it to say, American immoderation is alive and well in Asia this 4th of July.
It's July 4, But Not The 4th Of July
Some expats simply uproot traditions from home and plant them into their new environment, but for others, the 4th of July took on an entirely different meaning the moment they moved abroad.
Those who have settled in the Philippines now celebrate Filipino-American Friendship Day, or Philippine Republic Day, on July 4. The government created the holiday to commemorate the official U.S. recognition of Philippine independence on July 4, 1946, after nearly 50 years as a U.S. territory.
Over in Rebild, Denmark, a collection of Danes, expats and pilgrims have celebrated what is billed as the largest 4th of July event outside the United States for the past 101 years. Linda Steffensen, U.S. corporate secretary for the Rebild National Park Society (also known as the Danish-American Friendship Organization), said as many as 5,000 people will participate in the four-day event this year, which is meant to "strengthen the long bonds of heritage, traditions, culture, family and friendship between Denmark and the USA."
"Rebild itself is unique in its history, purpose and dedication in gathering so many together on July 4 to celebrate American Independence Day each year," Steffensen explained. A number of esteemed individuals have participated in the distinctly Danish celebration over the years, including Walt Disney, Hubert Humphrey, Richard Nixon, George Bush, Ronald Reagan and members of the Danish royal family.
Few dignitaries or international celebrities, meanwhile, make it to the tiny U.S. Virgin Island of St. John each summer, where expats CiCi and Adrian Davis know July 4 as the annual West Indian Carnival. The couple relocated from North Carolina nearly a decade ago, and their four-year-old son, Asher, has never experienced a traditional American Independence Day.
"He has no idea what the 4th of July is except that it means a carnival parade," CiCi noted. "When we lived stateside, the Fourth meant family cookouts and fireworks while listening to patriotic music on AM radio. While we miss celebrating with family, we were worn out from the commercialism of most of the holidays -- Independence Day included. So, we were excited for our first carnival on St. John."
For the Davis family, the 4th of July means elaborate costumes, steel-pan bands and stilt-walking mocko jumbies. It's a far cry from what they were used to back home, but they wouldn't have it any other way.
"You don't see the traditional red, white and blue decor. No one wears American flag T-shirts or waves little flags. But we've embraced the new way we celebrate the 4th of July. And we enjoy it more now seeing it through our son's eyes."
FOLLOW MORE IBT NEWS ON THE BELOW CHANNELS