5 Reasons Chick-Fil-A Is So Popular: Chicken Sandwiches, Religion And Brand Loyalty Boost Fast-Food Chain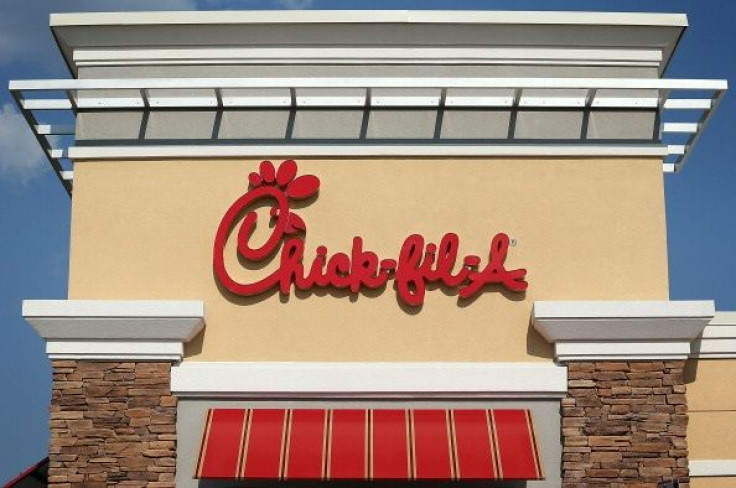 People really love Chick-fil-A. The latest figures from the American Customer Satisfaction Index (ACSI) certainly bear that out.
Among limited-service restaurants, the fast-food chicken chain easily took the top spot in ACSI's annual rankings for customer satisfaction. Chick-fil-A earned an 87 out of 100 rating, followed by Papa John's (81), Panera Bread (81) and Little Caesars (81). It was the second straight year atop the rankings for the brand, which last year was closely followed by the Tex-Mex chain Chipotle. The burrito chain fell sharply (6 percentage points) to a 78 rating after dealing with multiple cases of E. coli and norovirus at locations across the country. Still, even with people getting sick from their Tex-Mex food, the honor of last place went to McDonald's with a score of 69.
Below are five reasons Chick-fil-A took the top spot:
1. People love the chicken sandwiches (and the waffle fries).
The fast-food chain made its bones with boneless chicken sandwiches. It claims to have invented the concept in 1946.
The secret recipe for the breaded chicken sandwich gives it a taste all its own. Chick-fil-A describes it as "a boneless breast of chicken seasoned to perfection, hand-breaded, pressure cooked in 100 [percent] refined peanut oil and served on a toasted, buttered bun with dill pickle chips." The sandwich regularly ranks near, or at, the top of chicken sandwich lists.
The chain sold some 280 million chicken sandwiches in 2010, and Chick-fil-A has only grown since then.
2. Chick-fil-A courts families.
This month the company launched an app that allows customers to make customized orders ahead of time, aimed at reducing waiting times. In a press release, the company noted that it commissioned a survey that found "82 percent of millennial parents say they would do almost anything to avoid long lines at fast-food restaurants when they are with their children. In fact, nearly half (48 percent) said they would rather not eat at all than stand in a line."
The app quickly shot to No. 1 in the App Store after it was downloaded more than 1 million times in three days.
3. It has good gimmicks.
Re: those app downloads — it didn't hurt that that Chick-Fil-A offered a free sandwich to anyone who gave the app a try. In the first few days the company gave away some 131,000 sandwiches, but also made it incredibly easy for 1 million people with smartphones to order from its restaurants. Nothing builds customer satisfaction like free food, and at the same time, the company put its latest tool in the hands of clearly engaged customers.
Chick-fil-A is not afraid to do similar giveaways to build brand loyalty. Every time a new location opens, for instance, the company gives a year's worth of meals (52) to the first 100 customers.
4. Brand loyalty matters.
Through efforts like the app, Chick-Fil-A has made brand loyalty a priority, and it's paid off. The company set a record for ACSI customer satisfaction in 2015 and broke it by 1 percentage point this year.
The company has a stated focus to do all it can to treat people well. It started up a brand loyalty rewards program — think "frequent-fryer miles" — that is invite-only for the absolute die-hard customers. So-called "A-List" membership brings extra "treats," events and "insider content."
"It's like a local coffee place that knows how you like your coffee," an A-lister named Brittany Breen told CNBC in April. "It's more of a personalized experience."
It pays off to build loyalty among customers. Chick-Fil-A locations did about $3.1 million in sales per restaurant, more than any fast-food chain in the country, according to a 2014 QPR report. Subway did about $475,000 per restaurant, for instance, while Chipotle did about $2.5 million.
5. The company's often controversial religious and social stances actually help business.
Chick-Fil-A has been highly public about its Christian roots. Its locations aren't open on Sundays.
It faced stark criticism in 2012 for donating to causes many felt to be anti-gay, and the company's CEO, Dan Cathy, stoked the fire further when he came out against same-sex marriage. "We're inviting God's judgment on our nation when we shake our fist at him and say, 'We know better than you as to what constitutes a marriage,'" he said on a radio show. "And I pray God's mercy on our generation that has such a prideful, arrogant attitude that thinks we have the audacity to redefine what marriage is all about."
People threatened a boycott against the restaurant chain. But as the Atlantic pointed out, the brand actually saw a major sales boost from customers who wanted to display their loyalty. It doesn't hurt that about 70 percent of the U.S. is Christian, according to Pew data.
Chick-Fil-A has also softened its religious stances recently. It has largely cut off donations to the causes that many felt were anti-gay. And in the wake of the Orlando, Florida, terrorist shooting at a gay nightclub June 12 that left 49 people dead, a local Chick-Fil-A opened — on a Sunday — to supply free food and beverages to a local blood bank.
FOR FREE to continue reading
✔️ Unlock the full content of International Business Times UK for free
offer available for a limited time only
✔️ Easily manage your Newsletters subscriptions and save your favourite articles
✔️ No payment method required
Already have an account?
Log in
© Copyright IBTimes 2023. All rights reserved.