'50 Shades of Grey' Movie Cast: Jamie Dornan And Dakota Johnson Pose As Christian Grey, Anastasia Steele For Entertainment Weekly Cover [PHOTO]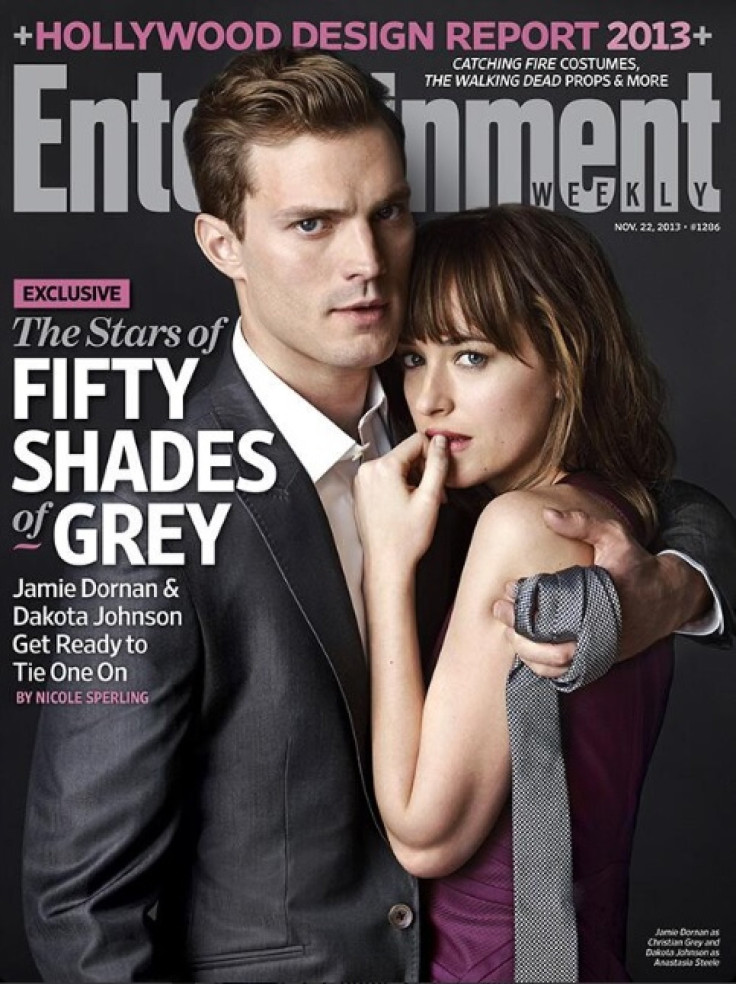 With less than three weeks before "Fifty Shades of Grey" begins filming, the movie's stars, actors Jamie Dornan and Dakota Johnson, have officially transformed into their roles of Christian Grey and Anastasia Steele.
On the latest cover of Entertainment Weekly, due in stores Nov. 22, the pair pose as their characters, with Dornan sporting a signature Christian Grey suit and holding the story's infamous silver tie, while Johnson appears in her character's favorite purple dress and shows off her recently dyed brunette locks.
In their first interview since "Fifty Shades of Grey" trilogy author E.L. James announced the acting duo would take on the highly-coveted roles of Christian, a sexually sadistic Seattle billionaire, and Anastasia, a sexually inexperienced college graduate, the duo have break their silence about the upcoming erotica film. "I grew up in a very liberal place," Dornan, 31, revealed to the magazine Wednesday when discussing the film's graphic sex scenes. "I'm not saying we had a playroom, but I'm not shocked by [the sex in the book]. It's essential to tell the story. I can't believe films that don't invoke the sexual side of it. So it works for me," he said.
Johnson, 24, also expressed her lack of concern regarding the film's graphic scenes, confessing that her one worry is how her nude figure will appear on camera. "Obviously, I want to look good naked," she said, adding, "I totally understand now why people exercise, because it kind of f--king feels awesome."
Dornan, only recently cast after the sudden departure of Charlie Hunnam in October, also dished about the highly discussed casting process and the moment he discovered he won the role of the BDSM-obsessed billionaire. "I was sort of pretending I wasn't waiting, but the phone was in my hand, halfway to my ear," said Dornan, who claims he received the call in the dead of night from the film's director, Sam Taylor-Johnson. "There was a slight fear, but beyond anything else, I was really f—king excited," he said.
On Wednesday, EW confirmed that the film's release date has been pushed back from Aug. 14, 2014, to Feb. 13, 2015. According to the report, the casting shake-up, in combination with Universal's fears of competing with other films for a summer release, was the cause behind the premiere-date change.
© Copyright IBTimes 2023. All rights reserved.