518 Fully Vaccinated Pennsylvania Residents Have Died Of COVID-19
KEY POINTS
The health department's data covers the period between Jan. 1, 2021 and Oct. 4, 2021
Pennsylvania also recorded over 69,000 breakthrough infections
At least 34,000 breakthrough cases were recorded over the past 30 days ending Oct. 4
At least 518 fully vaccinated residents in Pennsylvania have died of COVID-19 since the beginning of the pandemic, according to the state's health department.
The breakthrough COVID-19 deaths took place between Jan. 1, 2021, and Oct. 4, 2021, according to the data updated Oct. 8 by the state's Department of Health. The breakthrough deaths account for 7% of Pennsylvania's 7,625 coronavirus-related deaths.
During the same period, 69,822 breakthrough infections were recorded, accounting for 9% of the state's total of 771,734 coronavirus cases. Over the past 30 days ending Oct. 4, 2021, 34,609 breakthrough infections were recorded.
Among the state's total of 44,095 COVID-19 hospitalizations, 3,247 were fully vaccinated residents or 7% of the toll. The figures account for data gathered from 62% of Pennsylvania's hospitals and 78% of acute care hospitals.
"Reviewing this data over time helps inform our understanding of factors such as potential waning immunity," Acting Physician General Dr. Denise Johnson said in the report.
"This data is consistent with national trends and similar to data reviewed by the FDA and CDC resulting in a recommendation for a booster dose for vulnerable populations several months following the completion of the primary vaccination series."
Across the United States, COVID-19 cases caused by the highly transmissible Delta variant are beginning to decline, with health officials reporting only 23,025 new COVID-19 cases Tuesday, taking the seven-day average of new cases at 96,549, according to an analysis by The New York Times.
However, health experts warned against growing complacent, noting that the Delta variant has yet to run its course.
"We still have a couple of months to go until this Delta wave sweeps across the country in a regionalized fashion and we are sort of done with it," former FDA director Dr. Scott Gottlieb said, according to CNN. "You're starting to see an uptick in cases in the colder parts of the country and, as people are driven indoors without masks on, you'll start to see cases pick up."
The U.S. has reported 44,561,222 COVID-19 cases and 716,468 deaths since the beginning of the pandemic, according to Johns Hopkins University data.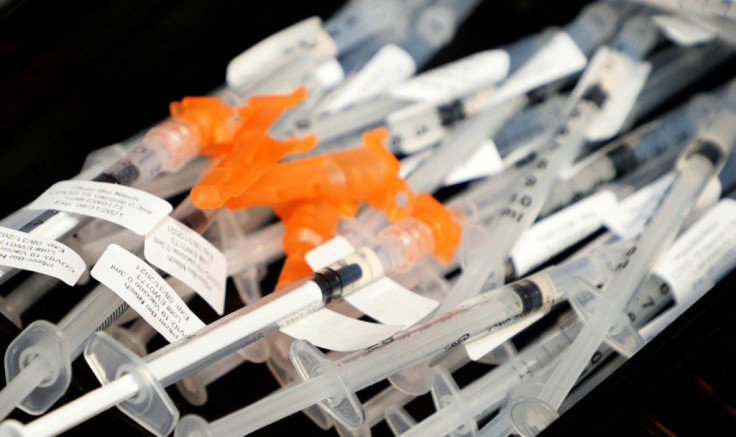 © Copyright IBTimes 2023. All rights reserved.
FOLLOW MORE IBT NEWS ON THE BELOW CHANNELS