7 Guards Charged With Abusing Female Inmates, But Officials Call Prison Safe
Seven current and former prison guards in Pennsylvania were arrested Wednesday and were charged with sexually abusing female inmates after using their positions "to manipulate and dominate female inmates" in what the state attorney general called Thursday was an effort to put a halt to a "persistent culture of abuse" that has plagued the scandal-ridden lockup for over 10 years now.
Current and former guards at the Lackawanna County Prison in Scranton abused their authority and positions to coerce sex from female inmates, Attorney General Josh Shapiro said. The abuses have been widely known, the attorney general added, broadly indicating a cover-up.
"These women literally had nowhere to turn for help, and they considered this horrendous behavior to be the 'status quo,'" Shapiro said during a press conference.
"Whenever you see this kind of scope, whenever you see this kind of pervasive culture that was allowed to exist, you have to wonder how far up the chain this goes," Shapiro added. "I want this community to know we are continuing to work to answer that question."
The following current and former prison guards at the facility were charged with various crimes, including institutional sexual assault, involuntary deviate sexual intercourse, aggravated indecent assault and harassment.
John Shnipes
Jeffrey Staff
George Efthimiou
Mark Johnson
George McHale
Paul Voglino
James Walsh
Shapiro announced the charges Wednesday after a year-long investigation of the Scranton facility.
"In the few instances that these allegations were reported to personnel at the Lackawanna County Prison, there is no evidence that any action was taken to help the female inmates who were being sexually assaulted by correctional officers," Shapiro said. "This is outrageous conduct by those placed in positions of power."
A grand jury responsible for investigating the prison for a year determined that the guards traded commissary items, food, cigarettes or extra phone time for certain sex acts.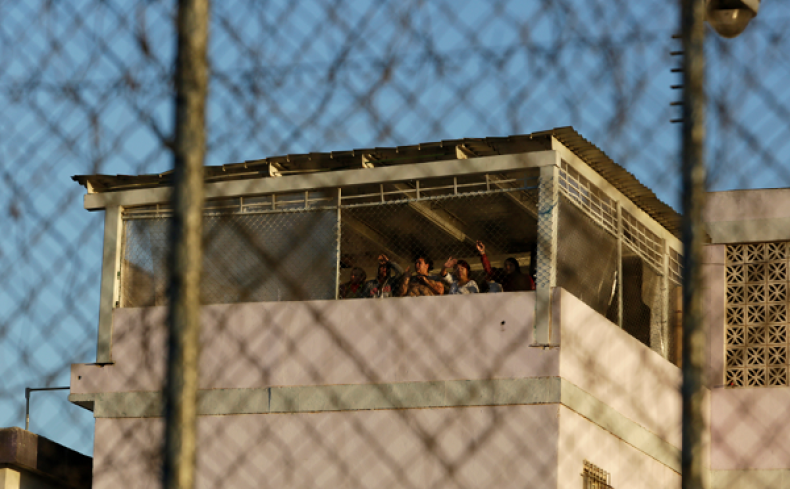 The panel found one of the guards had a female inmate perform a specific sex act on him in her jail cell, and reportedly other guards sitting in a control room were able to give him a warning if someone was approaching by, remotely just by clicking the cell door's lock.
The grand jury also found that the guards also coerced a certain sex act in a specific location of the jail.
"This was so commonplace that the women had a slang phrase for it," the attorney general's office said in a statement.
Lackawanna County officials argued that steps were taken to curb the problem.
Officials worked "diligently over the years" to ensure inmate safety, Lackawanna County spokesman Joseph D'Arienzo said in a statement, adding that "many of the allegations … occurred many, many years ago." He insisted the prison is safe.
A lawyer representing Staff, Voglino and Johnson told the Times-Tribune newspaper that the charges are "trumped up" and "simply not credible."
"I don't believe the charges will move forward," Bernie Brown told the newspaper.
The lawyer for Walsh said his client has no criminal history and will plead not guilty to the charges.
© Copyright IBTimes 2022. All rights reserved.