70% US College Students Worry About Money Issues: Study
A new study sheds light on the growing financial woes of American students. According to a research by Ohio State University, seven out of 10 college students in the United States are worried about their finances.
Sixty percent of college students said they were stressed about not having enough money to pay for studies and about 30 percent were perturbed about their monthly expenses, the results of the National Student Financial Wellness Study showed. The researchers also found that 32 percent of students neglected their studies because of debt.
"The number of students feeling financial stress is striking," Anne McDaniel, the study's co-author, said in statement Wednesday. Loan debt and finding ways to make ends meet pressured the American college students, McDaniel, who is also the associate director of research and data management at Ohio University's Center for the Study of Student Life that conducted the study, said.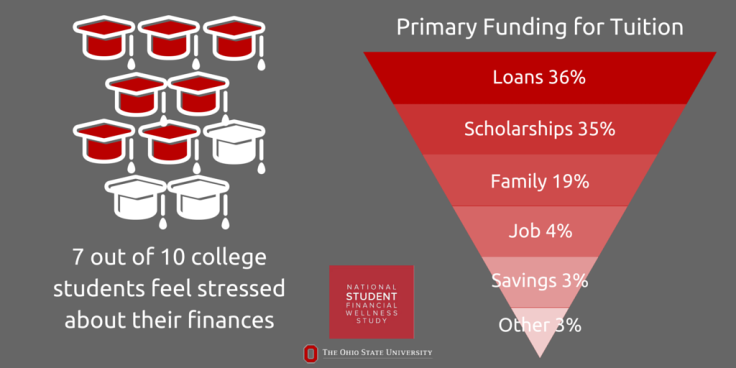 For the study, the researchers conducted a survey of 18,795 students across 52 colleges and universities in the U.S. between 2014 autumn and 2015 winter. The respondents were from four-year and two-year private and public institutions.
The findings showed that 64 percent of college students paid their college fees by borrowing money. Of these, 24 percent said they expected the loan debt to be between $30,000 and $50,000 by the end of graduation.
"About 30 percent of students with loans said they borrowed the maximum amount for which they qualify each year, which may not always be the best choice," McDaniel said in the statement. "But the good news is that about half the students with loans said they tried to borrow as little as possible."
The money woes led about three of 10 students to reduce the number of classes, whereas 16 percent of those surveyed took break from their studies and 13 percent transferred to another institution, according to the study's results.
On the brighter side, majority of the students were hopeful about their financial condition. About eight out of 10 students said they would be able to solve their monetary issues during their time at the college. Moreover, 67 percent said they felt optimistic about their future when they thought about their financial condition.
"Students feel good about their decision to go to college and think it will pay off in the end," said Catherine Montalto, the study's co-author and associate professor of human sciences at the university.
Researchers stated that they plan to look at the association between financial problems, graduation and other aspects. "We need to help students manage their stress so they can be conscientious about their financial decisions, but not so overwhelmed that it hurts their academics or health," Monalto said.
© Copyright IBTimes 2022. All rights reserved.
FOLLOW MORE IBT NEWS ON THE BELOW CHANNELS