9 Die As Fireworks Truck Explodes On Chinese Highway, Another 13 Injured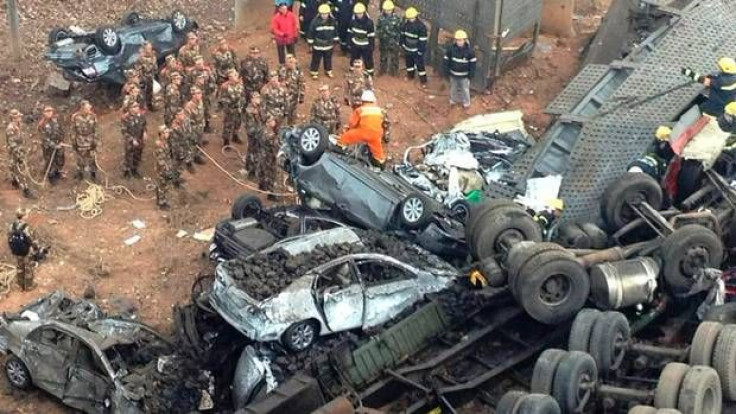 A truck carrying fireworks for the Chinese Lunar New Year exploded on Friday, blowing apart a section of elevated highway in central China's Henan Province and killing at least nine people, CBS News said.
Earlier reports by China National Radio, and soon after the Associated Press, claimed that 26 people had died in the explosion, but that number was later retracted from websites and local authorities said that the number was "inexplicable."
Following the explosion in Mianchi County, of the central Chinese province, Xinhua News Agency reported that there were nine immediate fatalities and another 13 injuries, including four people in serious condition. The news agency also said that at least 25 vehicles were wrecked and buried under debris after the explosion broke apart the elevated road, sending cars and trucks hurtling about 100 feet to the ground.
The blast sent chunks of cement and other debris flying, and shattered the glass windows at a nearby truck stop. The explosion also reportedly caused the collapse of a 260-foot span of the major highway, which travels east-west from the country's border with Kazakhstan to the Yellow Sea. The epicenter of the blast is about 55 miles west of Luoyang, an ancient Chinese capital, which is home to one of China's three major grotto sites, filled with over 100,000 Buddhist statues.
Nearby residents who spoke to the Chinese-run broadcaster CCTV said that they had heard "a loud booming noise." The media outlet also specified that t it was unclear whether the truck's explosives had gone off before the highway line had collapsed, or if it had been the other way around.
The (Toronto) Globe and Mail reported that the Chinese roadways are unusually crowded at this time of the season; with the upcoming New Year festivities under way, hundreds of millions of people are traveling back to their hometowns. The production of fireworks is also reportedly at an all-season high, as people are scrambling to buy them ahead of the Feb. 10 celebrations.
According to state media outlets, roughly 70,000 people die annually in vehicular accidents in China, and another 300,000 are injured.
© Copyright IBTimes 2023. All rights reserved.