90 More Bodies Of Suspected COVID Victims Found Floating In India's Rivers Get Cremated
KEY POINTS
At least 90 bodies of suspected COVID-19 victims were found floating in India's rivers Tuesday
Officials are still investigating the origins of the decomposing corpses
Many attribute the dumping of the bodies to the rising cost of cremation
The bodies of suspected COVID-19 victims continue to be discovered floating in India's rivers as the country's death toll from the virus passed the 250,000 mark Wednesday.
Numbers vary between sources but at least 90 more bodies were spotted Tuesday, with 70 of the corpses being recovered from the Ganges River in the Buxar district of the state of Bihar, the Guardian first reported. Over 30 bodies were spotted in the state a day before.
Dozens more were found Tuesday upstream in the Ghazipur and Ballia districts in the neighboring state of Uttar Pradesh. Several more were discovered in the Runj River in Panna, Madhya Pradesh.
Authorities in Ballia said 52 bodies were recovered late Tuesday, according to a report by the Times of India. Officials said they immediately performed the last rites of the deceased as there was a possibility that they had contracted COVID-19. A previous report by the Times said recovered bodies in Ballia were cremated.
Authorities are still trying to determine the origin of the decomposed bodies, with Bihar and Uttar Pradesh officials blaming their counterparts over the corpse dumpings.
Many believe the bodies were dumped in the river due to the rising cost of cremation, as per the Guardian.
Crematoriums in the country have been forced to construct makeshift funeral pyres in available spaces such as parking lots and public parks in order to deal with the rising number of deaths.
The process of cremation is a necessary step in Hindu funeral rites. Official government data from 2001 showed over 80% of India's population followed Hinduism.
According to the Guardian, locals have raised concerns over the discovery of the bodies floating in the Ganges, which is used as a water source for drinking and washing. The river also has religious signifance to Hindus.
Data from Johns Hopkins University showed India has 23,340,938 recorded COVID-19 cases and 254,197 deaths as of writing.
Experts blamed bad coordination and indecision from both national governments and international organizations for the failure to tackle the virus before it became a full-blown pandemic.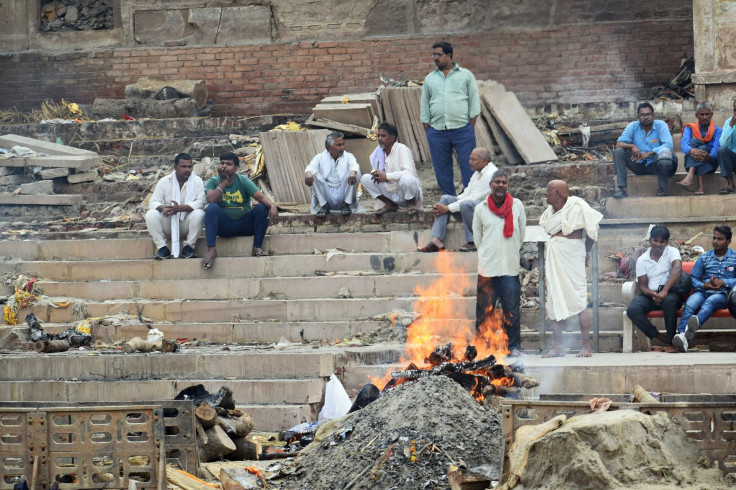 © Copyright IBTimes 2023. All rights reserved.