ABC Democratic Presidential Debate 2015: Full List Of Candidates Participating In New Hampshire, With Hillary Clinton Leading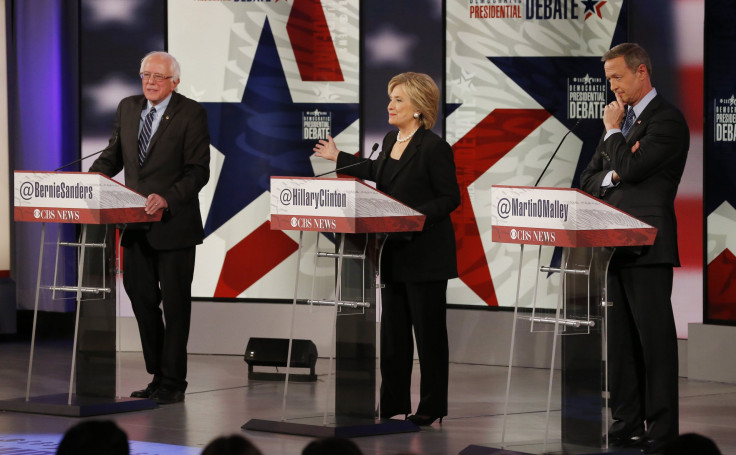 The Democratic presidential candidates are set to take part Saturday night in their third debate of the 2016 White House race. Three candidates remained in the field that was once slightly larger, but certainly still smaller than the Republican field of a dozen candidates: Former Secretary of State Hillary Clinton, Vermont Sen. Bernie Sanders and former Maryland Gov. Martin O'Malley.
The Democratic debate was scheduled to begin Saturday at 8 p.m. EST, in Manchester, New Hampshire. Organizers planned to broadcast nationally on network TV and live stream it online. ABC News organized it with the New Hampshire Democratic Party, local ABC affiliate WMUR-TV and Saint Anselm College, where the event was being held.
Going into the debate, Clinton was the clear front-runner. Her closest challenger is Sanders, who was favored by 26 percent of voters to Clinton's 59 percent, in the latest Democratic presidential nomination poll released Wednesday by Monmouth University in New Jersey. O'Malley polled at just 4 percent.
Clinton had increased her lead since an October debate, when she was garnering about 42 percent of the support from U.S. primary voters, according to Real Clear Politics. Sanders had about 25.4 percent. The Democratic presidential field no longer includes former Virginia Sen. Jim Webb and former Rhode Island Gov. Lincoln Chafee, who each failed to register more than one percentage point in the polls while they were running campaigns.
Because she is highest in the polls, Clinton was most likely to be placed at center stage during the debate. Sanders and O'Malley would then be positioned on either side of the former secretary of state. In previous debates, a smaller field of candidates has meant the Democratic candidates get more time to speak and more direct questions. On the Republican side, campaigns have complained that the debate format makes it difficult for everyone participating to get equal time.
Democratic Party Presidential Candidates | InsideGov
© Copyright IBTimes 2023. All rights reserved.