ABC News President Takes Amy Robach, T.J. Holmes Off The Air As Network Figures Affair Allegations Out
KEY POINTS
Amy Robach and T.J. Holmes took the day off from "GMA3" but were reportedly removed from the show "indefinitely"
The ABC president clarified that their affair was not a violation of the company's policy but removing them was best
Stephanie Ramos and Gio Benitez stepped in to host Monday, but the anchors remained unclear for the rest of the week
Amy Robach and T.J. Holmes will take a break from their daily "GMA" show following the reports of their alleged affair.
"GMA3" co-anchors Robach and Holmes have been taken off the air following their bombshell scandal. ABC News President Kim Godwin announced during an internal call that the duo would not host their daily 1 p.m. show moving forward, Page Six reported.
Godwin reportedly told staffers that the rumored affair between the two had become too much of an "internal and external distraction."
"After a lot of thought, I am taking Amy and T.J. off the air as we figure this out," Godwin reportedly said in a statement.
Stephanie Ramos and Gio Benitez stepped in to host "GMA3" Monday while the original hosts took "the day off." It remains unclear who the anchors will be for the rest of the week.
"I want to say that while that relationship is not a violation of company policy, I have really taken the last few days to think about and work through what I think is best for the ABC News organization," Godwin said in a statement obtained by TMZ.
She added, "This is something I'm not going to talk, we're not going to talk about on this call until there is more to be said. I'm asking that we stop the whispering in the hallways. You know, we can't operate with gossip, and speculation and rumors. We need to stay focused on the work."
Godwin encouraged the staff to approach the management if there is something that they wanted to raise. "You can always call HR or, as we've said, talk to a manager that you trust. If you think there is something that we need to know," she said.
Further internal meetings are reportedly taking place at ABC on how to handle the scandal. Sources told Daily Mail that Robach and Holmes have been removed from "GM3" "indefinitely."
"There is massive confusion internally. ABC News executive Kim [Godwin] has taken them off the air while they deal with this internally," a source told the outlet.
The co-stars continued to anchor the show last week without responding to the affair allegations. On Friday, they acknowledged the drama and just laughed it off.
"It's been great. I've gotten a lot of support. And, you know, I appreciate everything, and I'm happy to be going to work," Robach told the Daily Mail in a video published by the outlet when asked about the controversy involving her.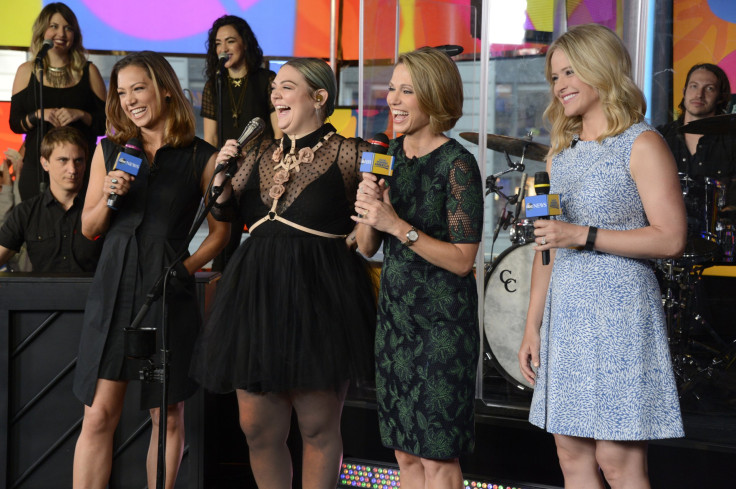 © Copyright IBTimes 2023. All rights reserved.