Amy Robach Breaks Silence Amid Affair Rumors With T.J. Holmes
KEY POINTS
Amy Robach appeared to be in good spirits in New York City Friday
She said she's "gotten a lot of support" amid the speculation surrounding her relationship with T.J. Holmes
Robach and Holmes appeared to acknowledge the drama on-air for the first time Friday
"Good Morning America" host Amy Robach has reportedly broken her silence after her romance with co-host T.J. Holmes became public.
On Friday, Robach appeared to be in good spirits in New York City, according to the Daily Mail, which asked her for comment on the controversy surrounding her relationship with Holmes.
"It's been great. I've gotten a lot of support. And, you know, I appreciate everything, and I'm happy to be going to work," Robach told the Daily Mail in a video published by the outlet, before getting into a car.
Robach and Holmes deactivated their Instagram accounts Wednesday — just hours after the Daily Mail published photos of them on various outings throughout November, including one showing them holding hands in a car during a vacation in upstate New York and one of them cozying up at a bar in the Big Apple.
The photos quickly garnered massive attention online, with some social media users accusing them of cheating on their spouses. Robach married actor Andrew Shue in February 2010, while Holmes tied the knot with lawyer Marilee Fiebig in March 2010.
On Friday morning's broadcast of "GMA3: What You Need to Know," Robach and Holmes appeared to acknowledge the drama surrounding their relationship on-air for the first time since the photos surfaced.
"You know, it's too bad it's Friday," Holmes sarcastically told Robach during the broadcast, before poking fun at the "great week" he was having.
"I just want this one to keep going and going and going," the former CNN anchor, 45, added. "Just enjoying it."
When Holmes advised Robach to "take it all in," she replied, "Speak for yourself."
The co-hosts did not directly address rumors that they had been seeing each other for months despite their respective marriages. Robach and Holmes — as well as their colleagues — also stayed silent on the allegations during Thursday's show with Dr. Jennifer Ashton, Page Six reported.
But an unnamed insider claimed to the outlet that "Good Morning America" co-host Robin Roberts warned her colleagues about rumors of an affair that were swirling around the network in 2017, years before their romance made headlines.
Roberts "pulled them both aside and basically said, 'Stop it,'" an anonymous source told Page Six.
An unnamed source close to the "GMA" production also told The Sun that Roberts and George Stephanopoulos were "furious" over the "GMA3" co-anchors' controversy.
"George and Robin do not like this. This is very messy. They prided themselves on not having a sex scandal, like 'Today' once did with Matt Lauer. They were so proud all their hosts were decent, married and committed people," the insider claimed.
"Robin is an idealist. She is the boss. When something goes off the rails she jumps in and tells people to tidy the mess up," the source added. "And I'm not so sure there's a way to tidy this one up. This is all very dirty for a morning show."
Despite the affair speculations, an unnamed source told People that Robach and Holmes were separated from their estranged spouses when their relationship began.
"This was two consenting adults who were each separated. They both broke up with their spouses in August within weeks of each other," the insider claimed. "The relationship didn't start until after that."
The source added, "She's got nothing to hide. They were both separated so they felt very comfortable dating in the open after that. Their spouses had moved out, even! So they were not hiding anything."
Page Six also reported, citing unnamed sources, that Robach is close to "finalizing her divorce" from Shue and that her estranged husband "moved out earlier this summer."
The "Melrose Place" actor removed all photos of Robach from his Instagram after her photos with Holmes surfaced.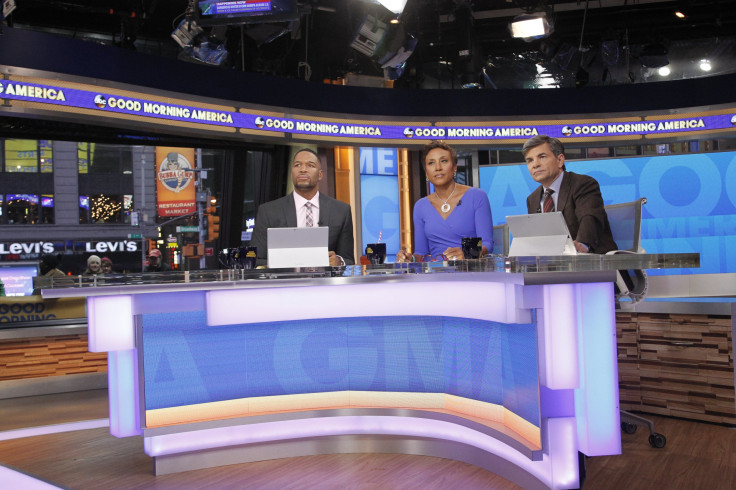 © Copyright IBTimes 2023. All rights reserved.
FOLLOW MORE IBT NEWS ON THE BELOW CHANNELS