ABC Republican Debate Highlights 2016: Best Video Clips, Questions, Insults And Gaffes From GOP Candidates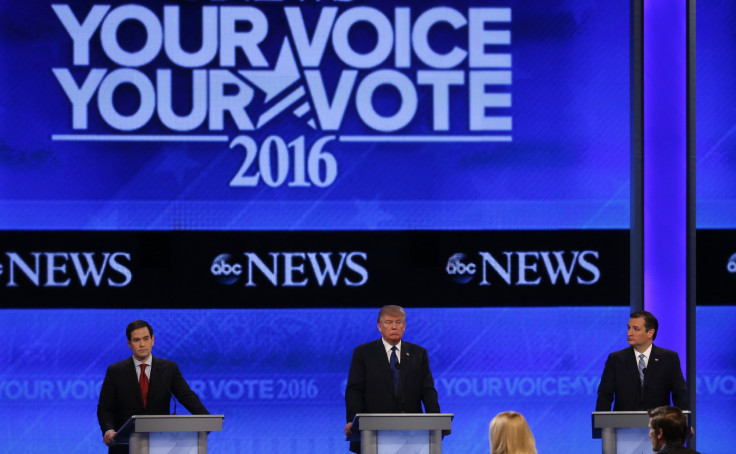 Just days before the New Hampshire primary Tuesday, the leading Republican presidential candidates met on stage Saturday in Manchester to get in their final jabs before voters in the state make their presidential choices known. The debate began just after 8:30 p.m. and was hosted by ABC News.
It was to be the only time that the GOP presidential aspirants all met on the same stage between the Iowa caucuses Monday and next week's primary. It was also the first time that businessman Donald Trump had attended a debate since he snubbed the Fox News debate in Iowa because of a dispute between himself and moderator Megyn Kelly.
The results of the Iowa caucuses were something of a disappointment for Trump, who had led in polls there and came in second place behind Texas Sen. Ted Cruz. But that wasn't the only thorn in Trump's side that evening: He barely beat Florida Sen. Marco Rubio in the caucuses.
Rubio's performance that night -- a surprise for many who were closely watching polls -- has been a major boost for his campaign. In New Hampshire polling , where he was in fifth place prior to Iowa, Rubio has jumped to second place behind Trump. The businessman leads with 30.7 percent of the vote, Rubio takes in 16.4 percent and Cruz is tied for third place alongside Ohio Gov. John Kasich with 12 percent support in the Granite State.
But Trump hasn't taken Cruz's Iowa victory sitting down. Days after the caucus results came in, he began accusing the Texan of stealing the caucuses by telling caucus-goers that Dr. Ben Carson, who is in eighth place in New Hampshire, had suspended his campaign. Following those accusations, voicemails given to Breitbart showed that Cruz campaign employees had called caucus sites to tell them that Carson had suspended his campaign and to encourage all caucus supporters to throw their support in for Cruz.
Here are some of the highlights from Saturday's debate:
.@realDonaldTrump on ISIS: "4 years ago, I said bomb the oil and take the oil... I still say the same." #GOPDebate https://t.co/q34oJluvpk

— ABC News (@ABC) February 7, 2016

Trump is seen here discussing how to defeat ISIS, which includes bombing their oil supplies.
.@realDonaldTrump: "Our country is going to hell." #GOPDebate https://t.co/SGMI9a41eC

— ABC News (@ABC) February 7, 2016

Trump here is bashing President Barack Obama and Rubio's statements during the debate that the president knows what he is doing in the Oval Office.
Ted Cruz : As president, I will sign a #FullRepeal of Obamacare! #GOPDebatehttps://t.co/nWIMruyt1p #GOP2016 #UniteBlue #CruzCrew

— Up Yours, Mexico (@actlightning) February 7, 2016

Cruz here is going back to a point he has made consistently since he joined the Senate: He wants to repeal Obama's signature healthcare law, known as Obamacare.
Carson didn't walk onto the debate stage when his name was called at the beginning of the debate.
Chris Christie slams Marco Rubio at tonight's #GOPDebate https://t.co/Jp1YYAFF4ihttps://t.co/Ty6ngPUZEj

— Bloomberg Business (@business) February 7, 2016

In one of the most vicious moments in the debate, New Jersey Gov. Chris Christie attacked Rubio for his record on immigration. He is trying to show that his governor record makes him more qualified to be the president than Rubio's experience as a senator.
© Copyright IBTimes 2023. All rights reserved.