Abraham Lincoln Quotes: 25 Inspirational Sayings To Celebrate The President's 205th Birthday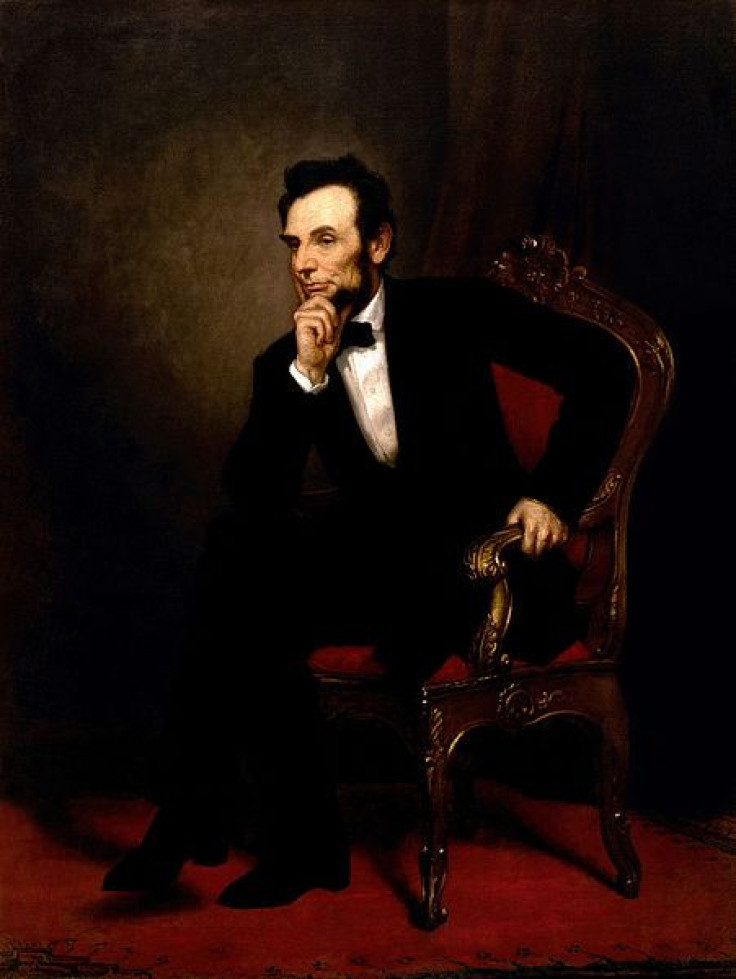 Happy Birthday, Abe!
The 16th president of the United States would have turned 205 years old today. For decades, Lincoln has consistently been ranked first or second in polls for the best U.S. president. He served as president from March 1861 until his assassination in April 1865. During that time he led the United States through the Civil War, preserved the Union and abolished slavery.
The son of a Kentucky frontiersman, Lincoln was born in a one-room log cabin on the Sinking Spring Farm in Hardin County. Five months before receiving the Republican Party's nomination for president in 1860, he described his early childhood:
"I was born Feb. 12, 1809, in Hardin County, Kentucky. My parents were both born in Virginia, of undistinguished families--second families, perhaps I should say. My mother, who died in my tenth year, was of a family of the name of Hanks.... My father ... removed from Kentucky to ... Indiana, in my eighth year.... It was a wild region, with many bears and other wild animals still in the woods. There I grew up.... Of course when I came of age I did not know much. Still somehow, I could read, write, and cipher ... but that was all."
Outside of his political career, Lincoln had many facets. Gingerbread men were his favorite dessert, he was an accomplished wrestler and a big cat-lover.
A self-taught lawyer, Lincoln was a gifted orator. He spent many years perfecting his speaking abilities that became legendary. Below are 25 quotes to share on Abraham Lincoln's birthday.
On Character
"Most folks are as happy as they make up their minds to be."
"In the end, it's not the years in your life that count. It's the life in your years."
"Always bear in mind that your own resolution to succeed is more important than any other."
"A friend is one who has the same enemies as you have."
"Perhaps a man's character was like a tree, and his reputation like its shadow; the shadow is what we think of it, the tree is the real thing."
"Leave nothing for tomorrow which can be done today."
"I have always found that mercy bears richer fruits than strict justice."
"Be sure you put your feet in the right place, then stand firm."
"Don't worry when you are not recognized, but strive to be worthy of recognition."
"I walk slowly, but I never walk backward."
Morals
"Whenever I hear anyone arguing for slavery, I feel a strong impulse to see it tried on him personally."
"I leave you, hoping that the lamp of liberty will burn in your bosoms until there shall no longer be a doubt that all men are created free and equal."
"I am not bound to win, but I am bound to be true."
"When I do good, I feel good. When I do bad, I feel bad. That's my religion."
"If you want to test a man's character, give him power."
"Let us have faith that right makes might, and in that faith, let us, to the end, dare to do our duty as we understand it."
"In times like the present, men should utter nothing for which they would not willingly be responsible through time and eternity."
"No man is good enough to govern another man without the other's consent."
"My great concern is not whether you have failed, but whether you are content with your failure."
Nationhood
"Government of the people, by the people, for the people, shall not perish from the Earth."
"Any people anywhere, being inclined and having the power, have the right to rise up, and shake off the existing government, and form a new one that suits them better. This is a most valuable - a most sacred right - a right, which we hope and believe, is to liberate the world."
"A house divided against itself cannot stand."
"America will never be destroyed from the outside. If we falter and lose our freedoms, it will be because we destroyed ourselves."
"We the people are the rightful masters of both Congress and the courts, not to overthrow the Constitution but to overthrow the men who pervert the Constitution."
"Don't interfere with anything in the Constitution. That must be maintained, for it is the only safeguard of our liberties."
© Copyright IBTimes 2023. All rights reserved.
FOLLOW MORE IBT NEWS ON THE BELOW CHANNELS