Activision's $5.9B Buy Of 'Candy Crush' Maker King Digital All About Our Mobile Gaming Obsession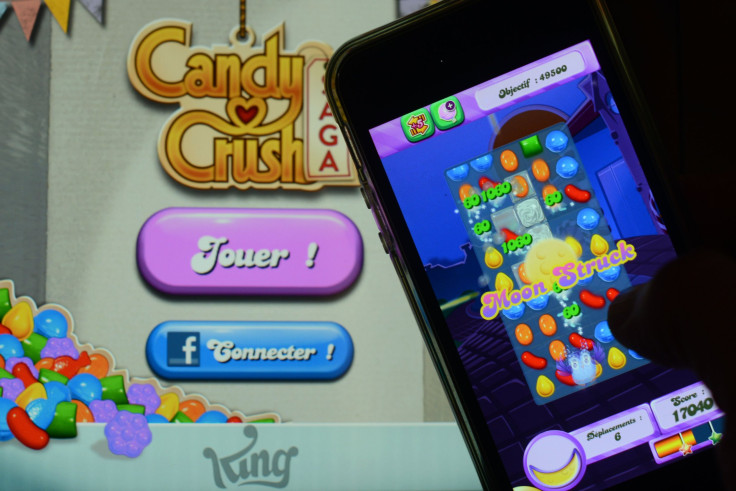 Facebook is once again flooded with "Candy Crush" notifications following the news of Activision Blizzard's plan to acquire King Digital for $5.9 billion. The deal makes Activision an immediate player in the mobile gaming world and a behemoth that dwarfs Sony, Microsoft and Nintendo in gaming revenue. But, there is a real possibility that the dream gets crushed like so many million candies if King can't find a way to repeat its magic with a successful follow-on to "Candy Crush."
All the numbers make it easy to see why Activision acquired King. In 2014, people spent around 3 hours a day playing mobile games on their smartphones and tablets, according to a report from the NPD Group. That's a 57 percent increase from 2012, when play time was around 2 hours, 20 minutes. There are also forecasts that mobile game revenue will reach up to $30.3 billion in 2015, an increase from $25 billion in 2014.
The growth in users is due in part to convenience, Nicholas Lovell, Gamesbrief founder and analyst, told International Business Times. "The time when most people are playing mobile games is when they are on their couch from 7 to 10 p.m., exactly the same time when you could be watching TV or playing a console game," Lovell said. The difference is the time commitment for a mobile game appears to be much less -- just one level of "Candy Crush" -- until hours have gone by.
Tablets, including the iPad and Microsoft's new Surface line, has also boosted mobile gaming, as publishers are able to use the bigger screen to deliver a richer experience.
Activision officials said the deal will give their company a bigger footprint in the mobile gaming segment, where it lacks a strong presence. "The combined revenues and profits solidify our position as the largest, most profitable standalone company in interactive entertainment. With a combined global network of more than half a billion monthly active users, our potential to reach audiences around the world on the device of their choosing enables us to deliver great games to even bigger audiences than ever before," Bobby Kotick, Activision Blizzard CEO, said in a statement.
The acquisition of King adds a new pillar that fits with Activision's strategy, Lovell said. Activision is all about singular franchises. "Call of Duty," "World of Warcraft," "Skylanders" and, formerly, "Guitar Hero" are predictable properties that bring big profit to the company. They also hit different segments of the marketplace, allowing Activision to reach as many gamers as possible. "Candy Crush" adds the dynamic of non-hardcore gamers to Activision's diverse portfolio.
"It's best to think of Activision like a marketing company," Lovell said. Each of Activision's franchises owns a valuable segment of the market. "Call of Duty" has males covered while "World of Warcraft" hits the PC market and "Skylanders" brings in the children in the toys-to-life department. "You can see a theme of longevity and loyalty when it comes to these games," Lovell said. "Candy Crush" adds the highly coveted mobile, female and self-identified "non-gamer" audiences.
Mobile gaming is growing tremendously -- with Southeast Asia and China seeing year over year user growth of 86 percent in 2014 -- even if the giants of the industry are floundering. King and Farmville developer Zynga went public to much fanfare. Zynga's IPO on December 16, 2011 valued it at $8.9 billion while King was valued at $7.6 billion. Despite the high expectations, both companies were relative flops in the stock market, with King selling to Activision for less than its IPO price. While Supercell, makers of "Clash of Clans," has found continued success other companies have not been so lucky. Rovio, developers of "Angry Birds" cut 260 jobs -- around 38 percent of its workforce -- in August.
Activision Blizzard Inc. (ATVI) | FindTheCompany
King could still yield significant sales for Activision Blizzard. The company's revenue for the first half of its fiscal year 2015 was $1.1 billion, down 12 percent from the $1.2 billion posted in the first half of fiscal 2014. Profit for the first half of King's fiscal year 2015 was $283 million. While "Candy Crush Saga" is still king, "Candy Crush Soda Saga" and "Farm Heroes Saga" are among the top-grossing mobile games for Android and iOS.
While King has yet to replicate the astronomical success of "Candy Crush Saga," the developer has plenty of options to turn its fortunes around. King's mobile expertise is incredibly useful to break into a competitive market, argues Peter Warman, Newzoo CEO. "Having King's experience in running and monetizing mobile games as a service will be a priceless asset to a company that is still on the learning curve when it comes to mobile," Warman said in a blog post.
King could optimize existing Activision properties for mobile or create a "'Candy Crush' beater," Lovell said. The real value could be in a new mid-core game, such as "Clash of Clans" or "Game of War" that are less simplistic than "Candy Crush" but don't require a lot of skill. "King has never made one of those [mid-core] games and none of the options seem easy. It's not quite clear how you take it to the next level if you're Activision."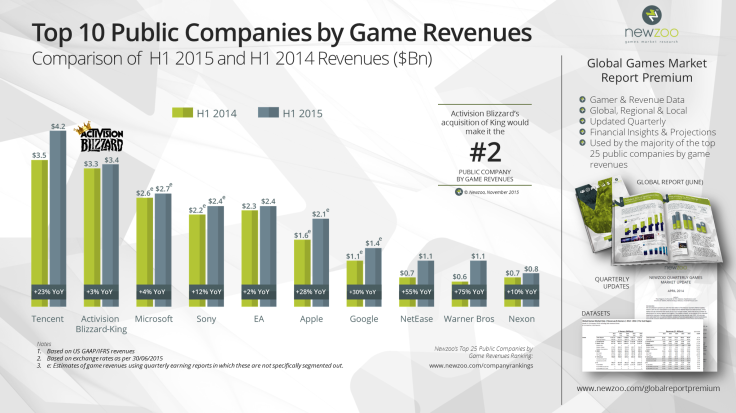 While analysts are cautiously optimistic about the deal's potential, there are some concerns that a bubble is about to burst. While it may not be as bad as the video game crash of 1983 -- which saw a two-year recession in the industry prior to Nintendo's emergence -- one person is likening the deal to those made before the 1999 dotcom crash. "Buckle up, because in my view we will see a crash in the next 14 months," Mike Wade, professor at IMD business school and director of the IMD/Cisco Center for Digital Business Transformation, said in a statement.
FOR FREE to continue reading
✔️ Unlock the full content of International Business Times UK for free
offer available for a limited time only
✔️ Easily manage your Newsletters subscriptions and save your favourite articles
✔️ No payment method required
Already have an account? Log in
© Copyright IBTimes 2023. All rights reserved.