Adam Levine 'Annoyed' With 'Loud-Mouth' Miley Cyrus On 'The Voice,' Report Claims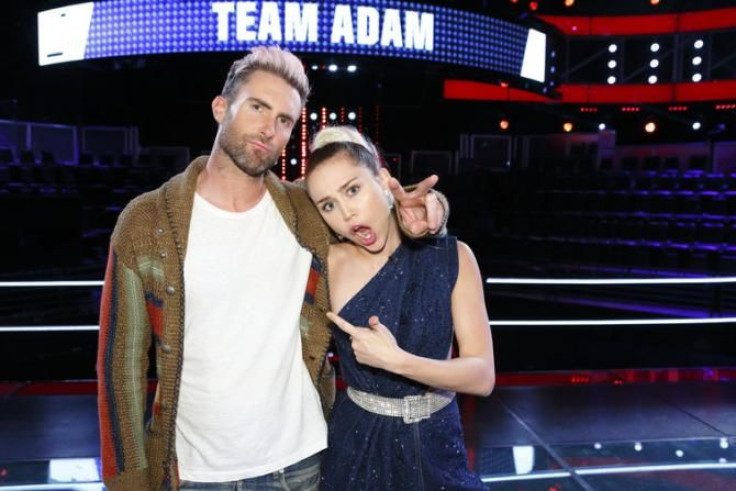 "Wrecking Ball" singer Miley Cyrus made her debut on NBC's "The Voice" during Season 10, and while viewers were entertained by her, not everyone was as tickled. Namely fellow coach and Maroon 5 front man Adam Levine, Radar Online wrote in an exclusive report Wednesday. Levine and Blake Shelton regularly have friendly disagreements, but the "Sugar" singer supposedly detests Cyrus.
This is pretty unfortunate since Cyrus, 23, has started to film for Season 11. "Adam and Miley were non-stop bickering during their last taping together," an insider told Radar Online. "He nitpicks almost every single thing she says. Adam seems to find Miley to be extremely loud-mouthed and absolutely annoying!"
The tension is so thick "executives are now second-guessing their decision to bring Miley Cyrus on full time because she cannot get along with Adam to save her life!" the source added.
Part of the reason Cyrus and Levine, 37, don't get along is "they both have short attention spans," an insider told Us Weekly last week. "They find each other annoying," the anonymous person added. "Adam would get agitated when Miley would interrupt him, and she enjoyed getting under his skin."
But that's not the only feud on set. Shelton is reportedly fighting with Christina Aguilera, who replaced his girlfriend Gwen Stefani. "Blake hates the fact that Gwen is no longer with him in the judges' chairs this season," a source told Radar Online in a different article. "Everyone knows this and he is taking it out on Christina, and they are not getting along at all." Aguilera, 35, supposedly got Cyrus the gig so Stefani, 46, wouldn't be put back on the panel.
Don't miss "The Voice" when it airs Mondays and Tuesdays at 8 p.m. EDT on NBC.
Follow me on Twitter @mariamzzarella
© Copyright IBTimes 2023. All rights reserved.