After Corinthian Collapse, For-Profit College Accreditor ACICS Threatened By Education Department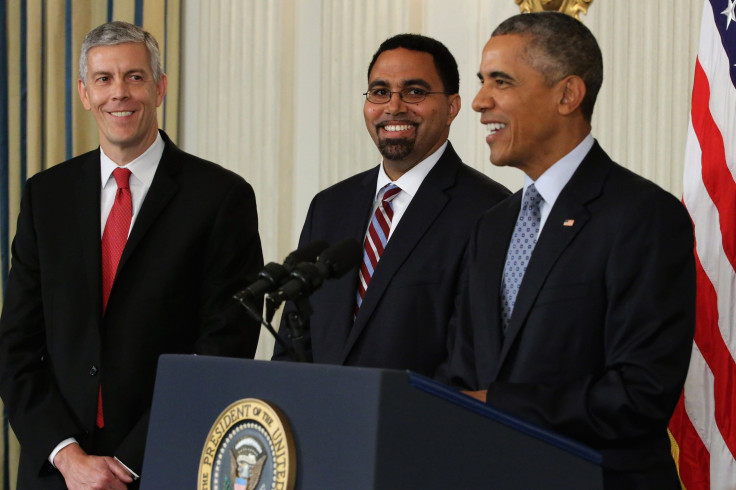 The administration has taken yet another step in cracking down on the for-profit college industry. The U.S. Education Department released a staff report Wednesday recommending that officials decline to renew their recognition of the Accrediting Council for Independent Colleges and Schools, a century-old organization that accredits hundreds of institutions, many of them controversial for-profit colleges.
An unnamed Education Department administrator told reporters Wednesday that ACICS had made mistakes, and not just little ones, expert David Halperin wrote in a blog for the Huffington Post. "These were quite severe, quite egregious, irreparable," the official said, adding that "some schools provide extremely poor outcomes for students or even commit fraud but nevertheless still maintain accreditation."
ACICS is undergoing its routine review process, but Education Department staff recommended that it lose its status as a legitimate organization that can judge whether schools should give out degrees and receive federal aid. "This is not the final word on ACICS — so nothing is inevitable or happens immediately — but this recommendation does kick off a process that students will want to know more about," the department noted in a blog post. If the recommendation goes up the chain, schools with ACICS accreditations will have 18 months to find another accreditor. Otherwise, they could lose their eligibility for aid.
This is a big deal because ACICS approved Corinthian Colleges Inc., a major chain of for-profit colleges that collapsed last year amid allegations that it used overly aggressive recruiting techniques, rigged job placement rates and gave out predatory loans. It also accredits ITT Technical Institute, which International Business Times previously noted is under investigation by the Justice Department.
"The call from U.S. Department of Education staff to terminate ACICS' role in the federal financial aid programs is a monumental step to protect students and taxpayers," Ben Miller, the senior director for postsecondary education at the Center for American Progress, wrote in a news release. "ACICS' abuse of the public trust for years could not — and must not — go unpunished. This decision sends a strong and unambiguous signal that accreditation must do a better job acting as a gatekeeper to federal funds."
An official in the Education Department will now look at the recommendation and weigh it alongside input from the National Advisory Committee on Institutional Quality and Integrity, according to its blog post. ACICS can appeal the ultimate decision.
© Copyright IBTimes 2023. All rights reserved.