The Agronomy Engineering Expert With A Passion For Table Grapes: Meet Paulo De Tarso Miranda Duarte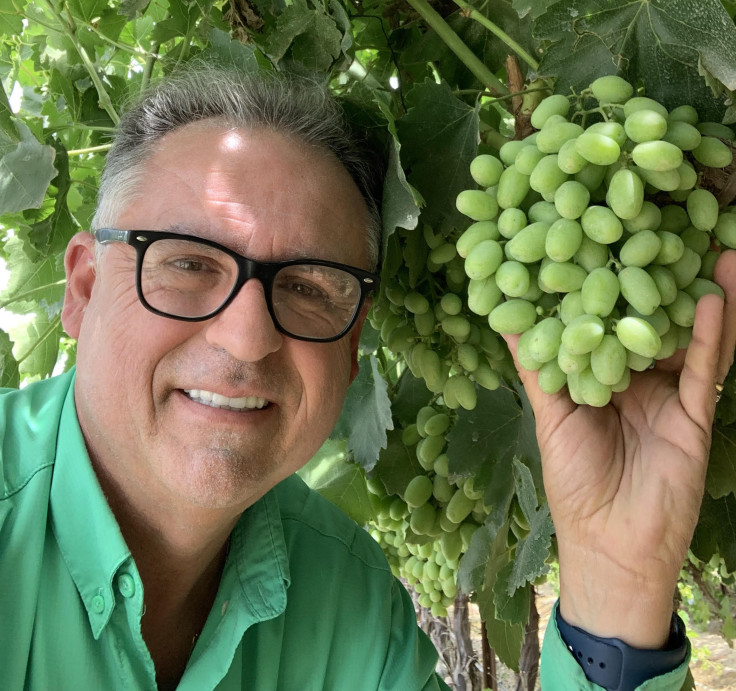 In 1987, Paulo de Tarso Miranda Duarte had a conversation with Mr. Mamoru Yamamoto that was simple but life-changing. Upon meeting the old Japanese grape grower, he was asked if he actually wanted to work with grapes. When Paulo responded with enthusiasm that he did indeed, Mr. Yamamoto shared four essential pieces of wisdom to guide him on his journey:
As nobody does anything alone, it is important to be a respectful team player.
Continue to seek and stay curious in all ways. Grapes are very dynamic and will change, so traveling to learn about different approaches and perspectives will bring greater success.
Be a good and honest man, working in alignment with nature.
And most importantly, let your passion lead you.
Ever since that poignant conversation, Paulo has honored his commitment to Mr. Yamamoto. His passion for grapes has been his driving force. He has sought education and development whenever possible. And with a huge heart and deep respect for the work, he has always enjoyed working within a supportive group of professionals.
Now, grapes were not always Paulo's focus. When he thinks back to his younger days, he recalls: "I always knew I wanted to go into agronomy, but I had no idea that it would put me on the path to grape cultivation."
Paulo graduated from the Universidade do Estado da Bahia in Brazil in 1986, and then started as an intern with Frutinor. He didn't know it at the time, but this was the beginning of a beautiful friendship and partnership with the founder, Mr. Jairo Vaz. Mr. Vaz recognized Paulo's dedication to his craft and incredible work ethic, promoting him to Production Supervisor within only three months of joining the company.
After just two years, Paulo was promoted again and this time he truly found his niche – Grape Production Manager. He spent a total of six years with Frutinor and acquired a wealth of knowledge from his team and, in particular, his boss. Mr. Vaz worked within the highest standards and was always pushing the boundaries on innovation and technique. He often brought Paulo on his international expeditions, aiming to broaden the company's horizons and learn about new varieties.
Leaving the company in 1992, Paulo took on a new role with Maisa. He continued working with grape crops, but also had the opportunity to work with other fruits like melons, mangoes, cashews and acerolas. At the time, Maisa was experimenting with new agricultural products. Paulo conducted a great deal of research on fungicides, insecticides, and fertilizers from leading global brands like Zeneca Down Science, Bayer, Dupont, and ICI. This knowledge would prove to be extremely beneficial later in his career.
In 1995, Paulo found a new opportunity that was closer to home in order to help care for his ailing father. He was only with Uniao Frutas for two years, but was grateful to return to a focus on his favorite fruit, once again, as a production manager. Although he enjoyed working with the company, an opportunity arose that he could not turn down.
His former boss and dear friend, Mr. Vaz, contacted him in 1997 about the launch of an exciting new venture. Paulo was invited to, once again, hold the position of Production Manager for the new company, Frutimag. However, this time the assignment was much more substantial as Paulo would be responsible for preparing the land, installing drainage and developing the irrigation systems. He fell in love with the farm immediately and, although they would also grow mangoes, the primary focus of the property would be grapes – allowing his expertise to truly shine.
Paulo worked with Fruitmag and Mr. Vaz for ten amazing years. Their work was top notch and their produce was unmatched. In the end, both men left the company for one reason and one reason only: it was acquired by another company that decided to replace the grape cultivation sector with meat and magnesite ore production. Paulo was determined to continue working with grapes, and set off to find a new position.
Unfortunately, around the same time, the economic crisis of 2008 hit Brazil harder than many other countries. In contrast, Peru was experiencing a boom in the agribusiness sector. Paulo decided to relocate his family, and joined the team at EcoSAC. The farm only had about 80 acres of grapes initially, as it was centered more around peppers and shrimp. However, with Paulo's influence and contributions, things began to shift.
When asked about his time at EcoSAC, Paulo recalls fondly: "I had a very important role in the 'revolution' of changing from traditional grape varieties to patented grape varieties of [companies like] Sun World, IFG and SNFL."
By the time he left the business 13 years later, EcoSAC had overcome significant pest issues, refined their production to grape varieties best-suited to the climate, and branded a series of their own microbiological products to combat common growing issues that are now sold across Peru. Paulo brought the business back from the edge of failure and left it in great success.
When asked what his favorite part of the journey was, he replied: "Grapes are a charming and challenging crop. They can be enjoyed fresh on the table, or fermented as wine. It's a versatile fruit that is both refreshing and nutritious, but there is nothing more fulfilling than coming up with new solutions, whether in terms of nutrition, fertilization, or even irrigation."
He adds: "Growing crops isn't just about planting, there's a lot of planning involved, as well as phytosanitary control. I'm very proud to be involved in all aspects of grape growing, as there is so much to learn about the industry."
Recalling that impactful conversation from so many years ago, it is clear that Paulo stayed true to his commitment. His love of grapes is obvious, and the farms and lands that are graced by his loving care are destined to flourish. Wherever he digs his heels in next will, without a doubt, be lucky to have him.
© Copyright IBTimes 2023. All rights reserved.