Air New Zealand, Air Pacific, Korean Air And Other Asian Airlines Join Ban On Shark Fin Cargo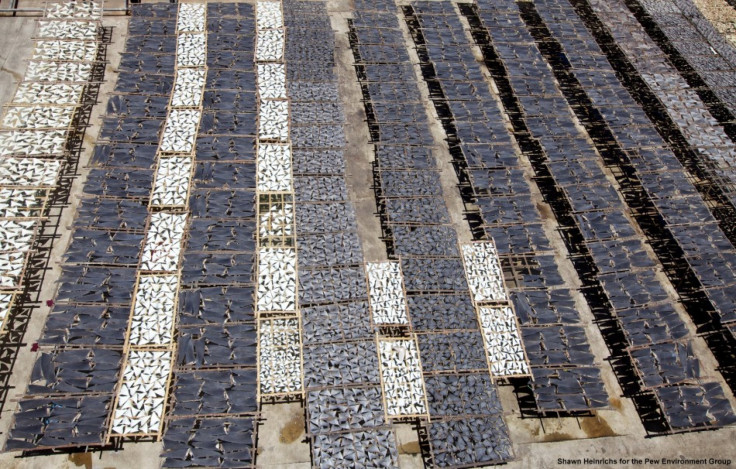 Analysts say about 10 percent of the global shark fin trade is freighted through air, but the trend of eliminating shark products from cargo appears to be growing in the very region where it's seen as the biggest problem: Asia-Pacific. Hong Kong-based Cathay Pacific changed its policy in September to only accept independently verified sustainable shark and shark-related products, and now a host of other major players have followed suit.
Air New Zealand spokeswoman Marie Hosking confirmed to IBTimes Wednesday that the flag carrier would no longer transport shark parts effective immediately. "Given the small quantity of this product that is offered for carriage and the difficulty of confirming whether the source is sustainable or not, the decision has been taken to no longer accept shark fin for carriage," Hosking said in an email. "Consideration was given to continuing to carry sustainably harvested shark fin, however, the volume of work that would be involved verifying and monitoring the sources would make it uneconomic."
Air New Zealand temporarily suspended transport last month after the New Zealand Shark Alliance -- an umbrella group of NGOs including Greenpeace as well as NZ Forest and Bird -- exposed the practice in local media. It noted that the conservation-minded nation is one of the top exporters of shark fins to Hong Kong -- far and away the world's largest consumer -- alongside Spain, Taiwan and Singapore.
Katrina Subedar, spokeswoman for Forest and Bird, said she hoped Air New Zealand's move would send a strong message to the government that the practice of finning doesn't fit in with its "100% Pure" image abroad. "We have been helping to draft a National Plan of Action on Sharks that is due out for public consultation in the beginning of August," she noted. "This is our only chance to ban the practice from New Zealand waters, and there is public and political pressure to do so."
Air New Zealand was the latest in a series of airlines to announce a change of policy this week. Air Pacific, soon to rebrand as Fiji Airways, banned carriage of "unsustainably sourced" shark fins on Monday. Fiji's national airline said it would only accept shipments of such products from sustainable sources and would work with stakeholders to institute an independently verifiable process to do so.
"We have always understood that this is a sensitive and important matter," Air Pacific's Acting CEO Aubrey Swift said. "Notwithstanding the gross inaccuracies and misleading reporting about this issue by some sections of the media, we recognize and accept our responsibilities on environmental and conservation issues and take them very seriously."
During a month-long review of its freight policies relating to shark and shark-related products, Swift said the airline held many discussions with freight forwarders, suppliers and the fishing industry, and sought the input of conservation organizations.
"After taking into account various considerations, our review highlights that we need clearer and stricter policies in place to ensure that suppliers only ship sustainably–sourced shark products. This is consistent with our overriding commitment to environmental protection and conservation efforts in Fiji," he added. "We believe a ban on the shipment of unsustainably-sourced shark fins is the right thing to do and have implemented this policy effective immediately."
The announcement from Air Pacific was largely seen as a reaction to criticism of its earlier shark fin shipments to Hong Kong. Several environmental groups, including Shark Rescue and My Ocean, sent a letter to the airline last month urging it to change its practices.
Korean Air also heeded conservationist's call to halt shipments of shark fin and shark-related products from unverified sources. South Korea's largest carrier changed its policy last Friday, saying that previously it had only carried shark fins "under the condition that a valid CITES (Convention on International Trade in Endangered Species of Wild Fauna and Flora) permit was fully obtained by the customer from the related national management authority."
"However, recently there has been a series of global movements calling to ban the carriage of shark fins," the airline added. "In view of these movements and in order to support the global call of protecting endangered shark species, Korean Air has recently reviewed is policy to stop the carriage of shark fins."
South Korea's second-biggest carrier, Asiana Airlines, announced Friday that it would take the same step. The nation imported some 76 tons of shark fins valued at $582,000 last year, according to Korea Customs Service, mainly to serve in soup at hotels and Chinese restaurants.
Conservationists believe that shark populations are declining globally as a result of overfishing, bycatch and life history characteristics that impede recovery. Each year more than 73 million sharks are killed to feed the demand for fins, predominantly in Hong Kong and Mainland China. Many of the sharks killed in the $630 million trade industry are immediately thrown back into the ocean to die after their fins are removed for sale at prices of as much as $800 per kilogram ($364 per pound).
Karli Thomas, of Greenpeace, said in an email to IBTimes that even if those involved in the shark trade simply change from one carrier to another, commitments from airlines refusing to carry shark fins still help.
"Firstly, it narrows the trade routes for shark fins. Secondly, it creates pressure on governments to step up and take action. Finally, it brings a wider range of companies into the shark conservation movement, building momentum. When people are booking a holiday they usually have several airlines to choose from, and knowing that one has taken an environmental stance and won't transport shark fins -- while another airline continues to do so -- could be an important factor for some people in making that choice."
Thomas used New Zealand as an example of how an airline could put pressure on the government to make a change: "How does it look for the New Zealand government to continue condoning shark finning when our national airline has refused to carry shark fins?"
Greenpeace, however, has concerns over the wording of some airlines' new policies that talk about bans on "unsustainable" or "unverified" shark fins. "The long line fishing fleet in the Pacific region is huge and poorly controlled, there are virtually no stock assessments of shark species, pirate fishing is rife, catches are often transferred from one vessel to another at sea, and most vessels have no fisheries observer aboard," Thomas said. "To transport any shark fins from a fishery in this state is to risk involvement in an unsustainable, if not illegal, trade."
Some 99 countries have now banned shark finning, while nine nations and territories -- the Bahamas, the Cook Islands, Honduras, Palau, the Maldives, Tokelau, the Marshall Islands, French Polynesia and New Caledonia -- have all created sanctuaries prohibiting commercial shark fishing in recent years to protect the animals in their waters.
Follow me on Twitter @MarkJohansonIBT
© Copyright IBTimes 2023. All rights reserved.
FOLLOW MORE IBT NEWS ON THE BELOW CHANNELS