Al Franken Tells Jeff Sessions His Russian Contacts Explanation Is 'Ridiculous'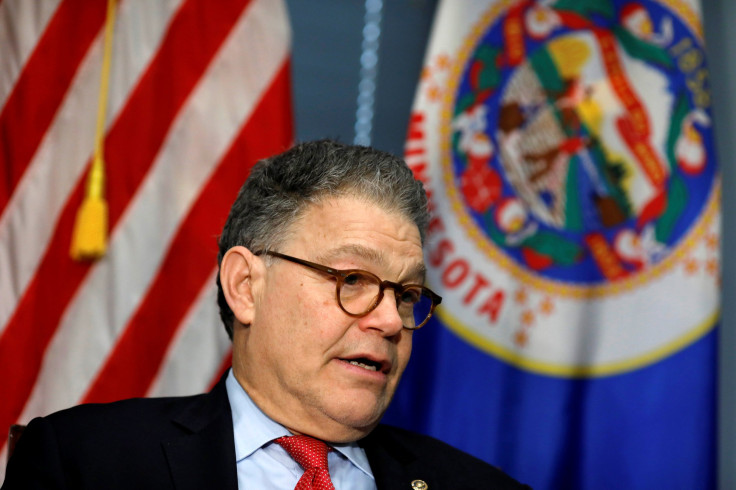 Sen. Al Franken said Wednesday he thinks Attorney General Jeff Sessions committed perjury during his confirmation hearing by failing to disclose meetings he had with Russian Ambassador Sergey Kislyak during the 2016 presidential campaign.
Sessions, who often acted as a surrogate for candidate Donald Trump, has admitted he met with Kislyak during the Republican National Convention in Cleveland and again in his Senate office in September but never mentioned the meetings during his Senate confirmation hearing. Sessions said, however, he was acting in his capacity as a senator, not as a Trump representative.
During his confirmation hearing, Sessions flatly denied any "communications with Russians" in response to a question from Franken. He said during a press conference last week he had focused on the part of the question that dealt with a breaking news story alleging repeated contacts between the Trump campaign and Russian nationals, including intelligence officials.
"It's hard to come to any other conclusion than he just perjured himself," Franken, D-Minn., said in an interview on CNN. He also said Session's written explanation, submitted Monday, is inadequate.
"My answer was correct," Sessions wrote in a letter to Senate Judiciary Committee Chairman Chuck Grassley, R-Iowa.
"I was surprised by the allegations in the question, which I had not heard before. I answered the question, which asked about a 'continuing exchange of information during the campaign between Trump's surrogates and intermediaries for the Russian government,' honestly."
"I did not mention communications I had had with the Russian ambassador over the years because the question did not ask about them."
"That's a ridiculous response. It's not a clarification at all," said Franken, a member of the Senate Judiciary Committee.
At Sessions' January confirmation hearing, Franken asked: "If there is any evidence that anyone affiliated with the Trump campaign communicated with the Russian government in the course of this campaign, what will you do?"
Sessions replied: "Senator Franken, I'm not aware of any of those activities. I have been called a surrogate at a time or two in that campaign, and I did not have communications with the Russians, and I'm unable to comment on it."
Franken said during Tuesday's confirmation hearing for Rod J. Rosenstein, a career prosecutor, for the deputy attorney general that Sessions "should come back" before the Judiciary Committee.
"I think he owes it to this committee to come back and explain himself," Franken said.
"He answered a question I didn't ask. And for him to put this in his letter as a response is insulting I've bent over backward not to say that he lied. He needs to come back."
Sessions last week recused himself from from any investigation involving the presidential campaign.
© Copyright IBTimes 2023. All rights reserved.