Al Qaeda's Jabhat al Nusra Shows Captured ISIS Child Soldiers In New Video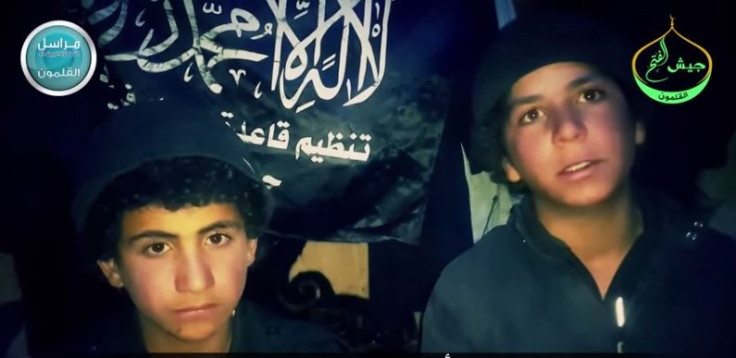 Al Qaeda's branch in Syria has captured two Syrian children allegedly fighting for the Islamic State group. The two 13-year-old boys appeared, crying, in a video released by Jabhat al Nusra's media wing on Wednesday.
The two boys are seen in the video sitting in front of an al Qaeda flag and being interrogated for just under two minutes. They tell their age and say they have been fighting with the militant group (also known as ISIS) for at least two months.
"Muslims are killing Muslims. My cousin is on the other side, so it was either I kill my cousin or he kills me," one of the boys said when asked about his opinion of the situation in Syria.
The children's accents led Syrian activists to believe that they were from Deir el Zor, a province that came under ISIS control last year.
"In Deir el Zor alone, there are currently more than 600 children who have been recruited into the Islamic State, and nearly 40 have been killed," Mujahid al Shami, the director of the opposition media campaign Deir el Zor Is Being Slaughtered Silently, told Syria Deeply.
ISIS has been training children living in the group's strongholds and sending them to the frontlines for over a year. As early as August 2014, just three months after ISIS declared its so-called caliphate across parts of Iraq and Syria, the group had already recruited 800 children for military training, according to the Syrian Human Rights Committee, an independent human rights violation monitoring group.
In Syria, the majority of ISIS child recruits come from Deir el Zor and Raqqa, ISIS' de facto headquarters in Syria. Civilians living under ISIS rule are often poverty-stricken, so enrolling in an ISIS training camp may seem attractive as it means children will be clothed, housed and fed. In November, ISIS expanded its child recruitment campaign to Iraq and released a video showing dozens of children in a training camp.
Al Qaeda has also been accused of recruiting children as young as 14 to fight, according to a Human Rights Watch report. Both groups pay the fighters a salary.
It was not immediately clear when or where the two alleged ISIS boys were captured, but the video was released by Nusra's media office in Qalamoun, the border region between Syria and Lebanon which has long been a hideout for Syrian rebels and terrorist groups like ISIS and Nusra. Fighting between Nusra-led rebels and forces loyal to President Bashar Assad's regime has been ongoing in Qalamoun for more than a week.
On Tuesday, the Qalamoun branch of Nusra-led rebel coalition Jaish al Fatah (the Army of Conquest) said it was committed to removing ISIS from the area, in addition to fighting Lebanese armed group Hezbollah and the Syrian army. The group claimed it attacked ISIS headquarters the previous night, capturing about 70 fighters, according to an Army of Conquest statement issued by its media office and then disseminated through social media platforms. It is possible the children were captured during this attack.
© Copyright IBTimes 2023. All rights reserved.