'Aladdin' Movie Cast Unites In Will Smith's Latest Selfie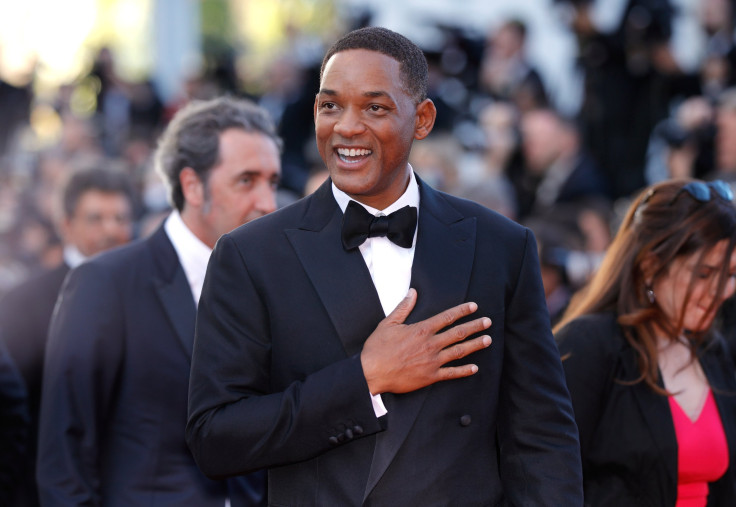 Will Smith posted the first photo of the "Aladdin" cast Wednesday. The actor posted a selfie on Facebook that shows off the main stars in Disney's live action remake.
Smith introduced the cast to his fans in the caption. "We just started shooting Aladdin and I wanted to intro you guys to our new family… Mena Massoud/Aladdin, Naomi Scott/Princess Jasmine, Marwan Kenzari/Jafar, and I'm over here gettin my Genie on. Here we go!" he wrote.
Massoud reposted the photo on Twitter with the caption, "Agrabah just got a lot hotter. Ooof! Gonna be keeping you posted on everything Aladdin peeps."
While this is the first photo of the group all together, the actors were announced as cast members earlier this year. However, one announcement was rather controversial. Some Twitter users took issue with Naomi Scott being cast.
The "Power Rangers" actress' mother is Indian while her father is British. As previously reported, many Twitter users lashed out, questioning why Disney couldn't find an Arab actress to play the role. Neither Disney nor Scott have responded to the criticism.
The 1992 animated film takes place in the fictional city of Agrabah, and the story is based on a Middle Eastern folktale. Aladdin is a street urchin who finds a magic lamp with a wish-granting genie inside. He tries to hide the lamp from Jafar, the evil Grand Vizer, and in order to do so, he poses as a wealthy prince.
It isn't clear how much of the original story will remain in tact in the live action remake. Disney already revealed some changes would be made starting with new characters. "Saturday Night Live" alum Nasim Pedrad will play Mara, a handmaiden and friend to Jasmine. Billy Magnussen ("Into the Woods," "Ingrid Goes West") will be playing a new role as well, according to the Hollywood Reporter, but character details are being kept sealed.
"Aladdin" is currently shooting in London. Guy Ritchie is directing while "Corpse Bride" writer John August penned the script. A release date has not been set.
"Aladdin" is just the latest Disney remake. "Cinderella," "The Jungle Book" and "Beauty and the Beast" have all been remade as live action movies with much success. This year's "Beauty and the Beast," starring Emma Watson and Dan Stevens, is the highest grossing film of the year with $1.2 billion earned worldwide.
The Mouse House has several other remakes planned. Adaptations of "The Little Mermaid" and "Snow White and the Seven Dwarves" are reportedly in development. "Mulan" is also confirmed to be in the works and was supposed to be Disney's next live action movie.
Nikki Caro will be directing the story of a girl who takes her father's place in the military. The script was originally penned by Elizabeth Martin and Lauren Hynek but was rewritten by "Jurassic World" scribes Rick Jaffa and Amanda Silver. "Mulan" was set to hit theaters Nov. 2, 2018. However, Disney has now pushed back the release date. Instead, "The Nutcracker and the Four Realms," starring Misty Copeland, will take its place.
© Copyright IBTimes 2023. All rights reserved.