Alaska Volcano Update: Bogoslof Eruption Shoots Ash Cloud Up 25,000 Feet [PHOTOS]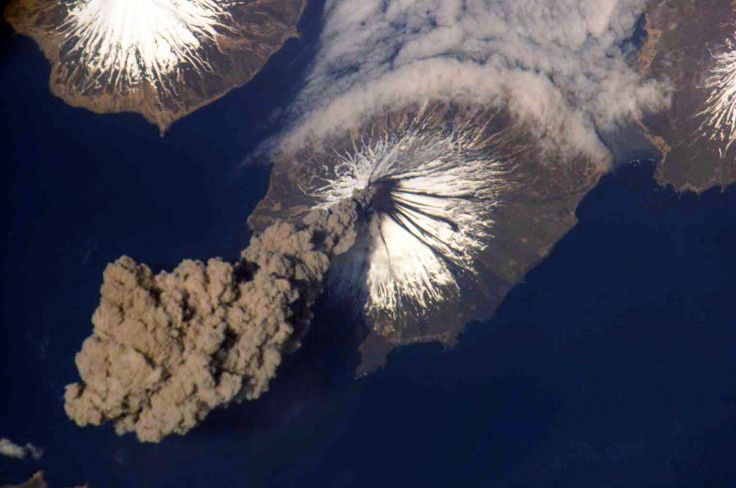 Residents in certain parts of Alaska found their cars and lawns covered in ash this week after the Bogoslof volcano erupted in the Aleutian Islands, sending a plume up 25,000 feet and spreading the smell of sulfur. And though the emissions had ended by Wednesday, the Alaska Volcano Observatory warned that the threat of "elevated unrest" continued.
"I don't see it slowing down any time soon," geophysicist Matthew Haney told KTVA. "I expect people will be talking about this eruption for many years and people will be coming back to the data streams, looking at it to learn more."
Bogoslof, which is located near Unalaska Island, is an uninhabited summit of a submarine volcano that extends nearly 5,000 feet above the sea floor, according to Volcano Discovery. It's been active since December, erupting more than two dozen times, but prior to that had been largely dormant for 25 years.
Monday's eruption — the latest — was "first detected by a series of discrete tremor bursts detected on nearby seismic stations" and followed by "an escalation of explosive activity" that included "numerous lightning strokes," according to the observatory. These conditions stretched into the night and Tuesday morning, causing the National Weather Service to issue high-level warnings to air traffic controllers, the Associated Press reported.
All the activity has caused the shape of Bogoslof Island to change. Previous eruptions came from a vent in shallow water, but more recently volcanic rock has created a barrier dividing the sea and the vent. That explained the ash that blanketed nearby towns this week.
"The last report of that amount of ash was in 1906," geologist Kristi Wallace told KTOO.
Authorities recommended people close their windows and doors, wear goggles while cleaning up the ash and keep their skin covered. Though ash did not pose a health risk, it did attract attention.
"We can look out across the bay a couple miles away and see that the formerly white snow is now a dusty pale gray," Jennifer Shockley, with the Unalaska Department of Public Safety, told the Alaska Dispatch News.
© Copyright IBTimes 2023. All rights reserved.