Alexa, Carlos PenaVega's 'Love At Sea' Summer Hallmark Movie: See Synopsis, Photo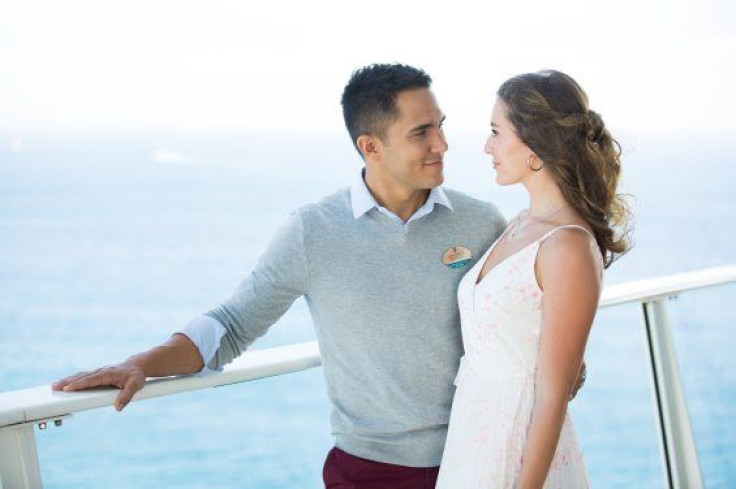 Alexa and Carlos PenaVega are often posting on social media about their mutual love of cruises, which is why it's a no-brainer that Hallmark has "Love at Sea," a cruise-set movie starring the duo, in the works. The film will debut as part of the network's annual Summer Nights programming event and is based on Barbara Oliverio's novel, "Love on the Lido Deck."
The new movie follows Olivia Grayham (Alexa), a child of the hotel business, as she strikes out on her own as an event planner. She's given a big job to do and she doesn't plan on disappointing. Olivia needs to put together a large-scale event for fans both aboard a cruise ship and online, and she plans on plotting out every small detail of it.
Her job gets a bit more difficult when she boards the ship to learn that the cruise director has quit and she'll be working with his second-in-command, Tony Rieves (Carlos), who has his own way of doing things. Will the two be able to work together and compromise in order to give ship-goers a great experience? Let's just take a beautiful guess and say that they'll be able to do just that, as well as fall in love with each other along the way.
Filmed on Royal Caribbean's Harmony of the Seas ship, viewers will see places like Nassau, Bahamas and Basseterre, St. Kitts as the backdrop of the movie. Fans who follow the actors on social media will have already gotten a glimpse of the locations they've visited and what the cruise ship set was like because the couple shared quite a few images with their followers. Also popping up in many of their photos was their son, Ocean, who will make his onscreen debut in "Love at Sea."
This will be the couple's second Hallmark movie together, with their first being 2017's "Enchanted Christmas," and will be Alexa's fifth one total. The Hallmark movies for the PenaVegas will only continue after this one, with the duo already set to star in a new Hallmark Movies & Mysteries flick, "Picture Perfect."
"We have always found great joy celebrating some of our most memorable moments on cruise ships, and 'Love at Sea' is truly a labor of love where we get to include our entire family," Carlos and Alexa said in a press release. "The opportunity to work simultaneously with two of our favorite partners, Hallmark Channel and Royal Caribbean, is a synergistic dream come true. We look forward to many more exciting adventures: both as Hallmark family members and as the Godfamily to Symphony of the Seas."
Look out for "Love at Sea" when it premieres this summer on Hallmark Channel.
© Copyright IBTimes 2023. All rights reserved.