'All Of Us Are Dead' Cast Members Share Behind-The-Scenes Stories, Speak About Kissing Scene
Amid all the tension in "All Of Us Are Dead," two characters have found time to explore puppy love. A kissing scene between them took several retakes much to the delight of one actor.
Cho Yi-Hyun, who plays Choi Nam-Ra, said it was a bit hard for her to get the kissing scene right because she had difficulty finding her partner's lips. Park Lomon, who plays Cho's love interest Lee Su Hyuk in the 12-episode series revealed that the kissing scene took 17 retakes but he was happy about it.
"I felt really sorry to Lomon. Because I had my eyes closed when I was leaning in for the kiss because I couldn't find where his lips were," Cho explained in a video for Netflix Korea.
"I kept saying, 'Lomon, I'm really sorry. Can we try it just one more time? I'm really sorry.' Then he was like, 'Sure,'" Cho said before the cast members burst into laughter.
Park revealed he was nervous before shooting the scene. But the kissing scene made him realize one thing.
"Before we shot that scene, I kept worrying, 'How do we pull off the kiss? I'm so nervous. What do I do?' But after the kiss, I realized, 'Oh, so this is why actors do romance dramas,'" he said and added, "This is my favorite scene."
Director Lee Jae-Gyu said they shot a cafeteria scene from Episode 2 for a whole day due to its complexities. The cafeteria scene is the lead stars' first encounter with the zombies, which was "very challenging" to shoot.
"I used the single-shot technique to portray the raw terror of the people encountering zombies for the first time. It was very challenging. We did a rehearsal for this scene and finished the scene within a day. It was a scene that was very physically challenging so it took a whole day of rehearsal," the director said.
The new zombie drama "All Of Us Are Dead" has taken Netflix by storm and is poised to become the next big hit on the streaming platform following the success of "Squid Game." The series was fifth among the most-talked-about TV shows in the U.S. on Variety's Trending TV Chart in the period between Jan. 26 and Feb. 2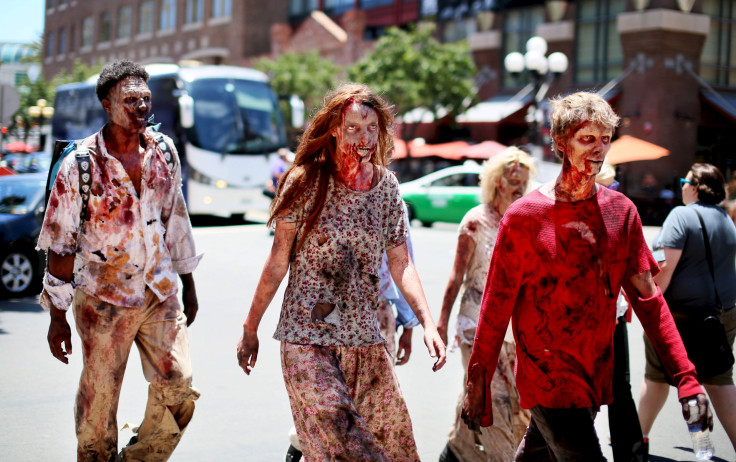 © Copyright IBTimes 2023. All rights reserved.