Amal Alamuddin's Golden Globes Gloves Compared To Porn By Kathy Griffin On 'Fashion Police'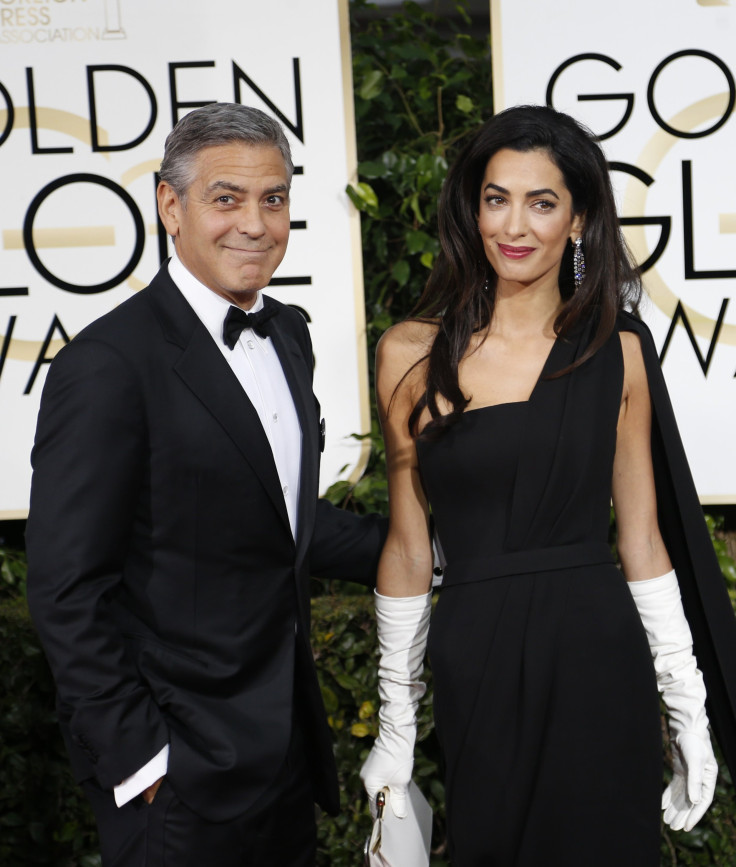 George Clooney's wife is not safe from the "Fashion Police." The E! series returned Monday night to break down the Golden Globes red carpet fashion, and Kathy Griffin did not hold back. The comedienne, who replaced the late Joan Rivers, made sure to speak her mind about Amal Alamuddin's interesting award show accessory – long white gloves.
Clooney and Alamuddin exchanged vows in September, and made their first red carpet appearance Sunday at the Golden Globes. The 53-year-old actor, who was on hand to receive the Cecil B. DeMille Award, wore the same tuxedo that he wore to his wedding. Alamuddin, 36, wore a black Dior Haute Couture gown with Harry Winston diamonds … and long white gloves. Besides Ryan Seacrest's awkward "wedding gift" exchange with Clooney and Giuliana Rancic's failed tequila toast with the couple, the big talk of the red carpet was Alamuddin's white gloves.
"I thought it was weird she had those gloves that remind me of, like, a porn scene, where the guy goes home and there's the naughty dishwasher and she only has the gloves," Kathy Griffin joked of the red carpet accessory.
She added that just because Amal Alamuddin is Mrs. George Clooney, doesn't mean that she's "safe" from their criticism. "I'm fascinated how we're like, not supposed to make fun of her because she married the great George Clooney," Griffin continued. "Look, everybody's on the table, George! Nobody's safe, nobody gets a pass."
Rancic shared a different view of the highly talked-about accessory while reporting from the Golden Globes red carpet, calling the gloves "gorgeous." However, "Fashion Police" co-host Kelly Osbourne seemed to agree with Griffin, stating that Alamuddin's gloves looked like something a veterinarian would wear to help the birth of a calf.
Despite the big gloves debate of 2015, Alamuddin and Clooney appeared to enjoy their evening. While accepting the Cecil B. DeMille award, Clooney gave a touching speech about his wife.
"It's a humbling thing when you find someone to love," he told the crowd. "Even better if you've been waiting your whole life and when your whole life is 53 years … Amal, I couldn't be more proud to be your husband."
Do you agree with Kathy Griffin and "Fashion Police? Tweet your thoughts on Amal Alamuddin's gloves to @AmandaTVScoop.
© Copyright IBTimes 2023. All rights reserved.