Amanda Knox Could Go Free After Judge Denies DNA Testing Request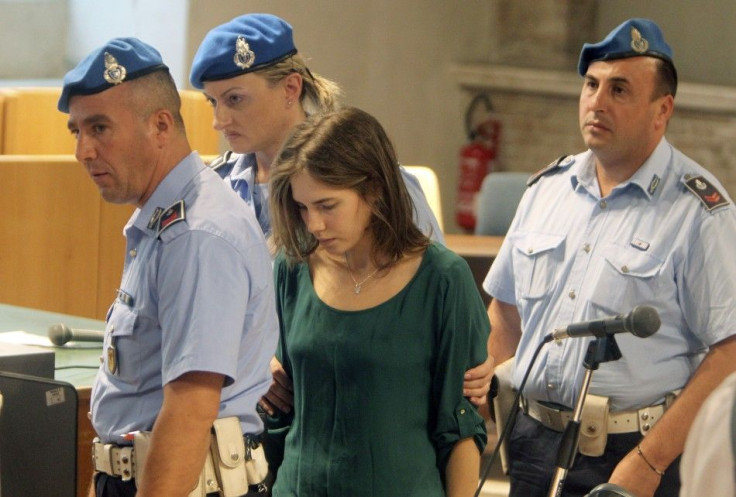 Amanda Knox, convicted of killing her roommate while studying abroad in Italy, could go free after an Italian judge denied prosecutors' request for more DNA testing.
The decision by Judge Claudio Pratillo Hellmann on Wednesday was a major victory for Knox, who insists she is innocent. Two forensic experts appointed by the court concluded earlier this year that the DNA evidence against Knox was unreliable, and if prosecutors are not allowed to do more testing, their chances of winning the case look increasingly slim.
The judge and his assistant are clearly against us, one of the prosecutors, Manuela Comodi, said, according to The Daily Mail. I can see both Knox and Sollecito being freed, which will be a shame as they are both involved.
Knox's father, Curt Knox, praised the judge's decision. There is no case left, and I am very hopeful that by the end of the month we will get to bring Amanda home, he told CNN.
Knox, 24, and her Italian boyfriend, Rafaelle Sollecito, were found guilty in December 2009 of sexually assaulting and killing Knox's roommate, Meredith Kercher. Knox, an American citizen, appealed the conviction, and her lawyers' main argument has been that the DNA evidence implicating her in the murder was contaminated at the scene and misinterpreted.
Court-appointed forensic experts agreed, concluding, according to Reuters, that proper decontamination procedures had not been followed in the initial investigation and that there was insufficient documentation of the amount of DNA evidence and inadequate 'real time' analysis.
Police found Kercher's body on the floor of her bedroom, surrounded by bloodstains, in November 2007. Her neck had been cut and there was evidence of strangling. One man, Rudy Guede, had left DNA both on and inside Kercher's body, and he was convicted of murder before Knox was.
The DNA evidence implicating Knox was less clear. The forensic experts reported that the DNA found on Kercher's bra clasp had been collected in a context that was highly suggestive of ambient contamination, and added that there was not enough DNA to redo the testing. Knox's DNA was also found on a kitchen knife in Sollecito's flat, but the forensic report concluded that that, too, was unreliable because not supported by scientifically valid analytical procedures. Knox maintains she only used the knife for cooking, and an Italian criminal science professor testified on her behalf that the cuts on Kercher's neck had been made by a smaller knife.
© Copyright IBTimes 2023. All rights reserved.