Amanda Knox's Double Jeopardy: How and Why The Italian Cassation Court Is Retrying Her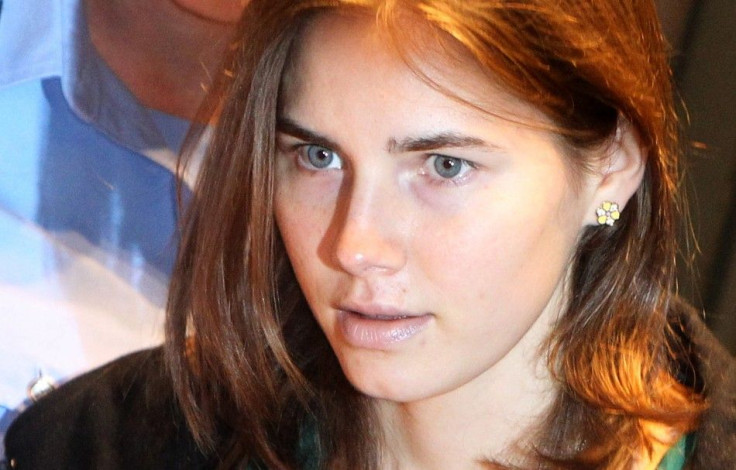 The word "cassation" means "abrogation or annulment by a higher authority." Italy's Corte di Cassazione, or "Court of Cassation," did exactly that on Tuesday: the judges annulled the acquittal on appeal of Amanda Knox, the now-25-year-old American student, for the 2007 murder of her former roommate Meredith Kercher. This means the case will be sent back to a lower court for reconsideration.
This does not, however, mean the case is necessarily re-opened, said Giorgio Spangher, the head of Sapienza University Law School in Rome. It means that the acquittal was annulled, he told the AP. The lawyer for Raffaele Sollecito, Knox's ex -- who was convicted with her in the first-degree trial, and acquitted on appeal -- told the Italian news agency ANSA that "The Court's decision is not a condemnation."
What will happen, instead, is a re-examining of the evidence from the first trial, to determine if the appeal trial was even legal to have in the first place.
Unlike the U.S. Supreme Court, who actually hears cases and sets precedence, the Court of Cassation in Italy is charged with ensuring the "correct application of the law and its uniform interpretation," according to the Court's website. This basically means its sole purpose to overturn or confirm previous decisions, and possibly order re-trials based on whether there's enough evidence that the previous trials had adjudication errors; procedural errors; or lacking, insufficient, on contradictory evidence.
If any one of these errors is found to be present in a trial, the Cassation Court "can and must quash the decision of the lower court," the website says.
It is unclear what errors the court found in Knox's case such that the acquittal was overturned, but the appeals court who acquitted Knox and Sollecito in 2011 found many errors in the original trial, including faulty and contaminated DNA tests. The Cassation Court has 90 days to make the reasons for its verdict known.
Knox does not have to return to Italy for the trial.
In another strange twist, a woman identified only as Maria, and Sollecito's new girlfriend, told ANSA that Sollecito told her he had talked to Knox, who told him she would not be returning. "Maria" also said that she and Sollecito would be moving to Switzerland, presumably to flee a new murder trial. Hours later Sollecito issued a statement through his lawyer, saying, "I have no idea who this girl is" and that the mysterious Maria was not speaking for him.
Knox's book about the case, "Waiting To Be Heard," is due to be released April 30, 2013.
© Copyright IBTimes 2023. All rights reserved.