American Airlines Ebola Scare? Flight Crew May Have Kept Sick Passenger In Bathroom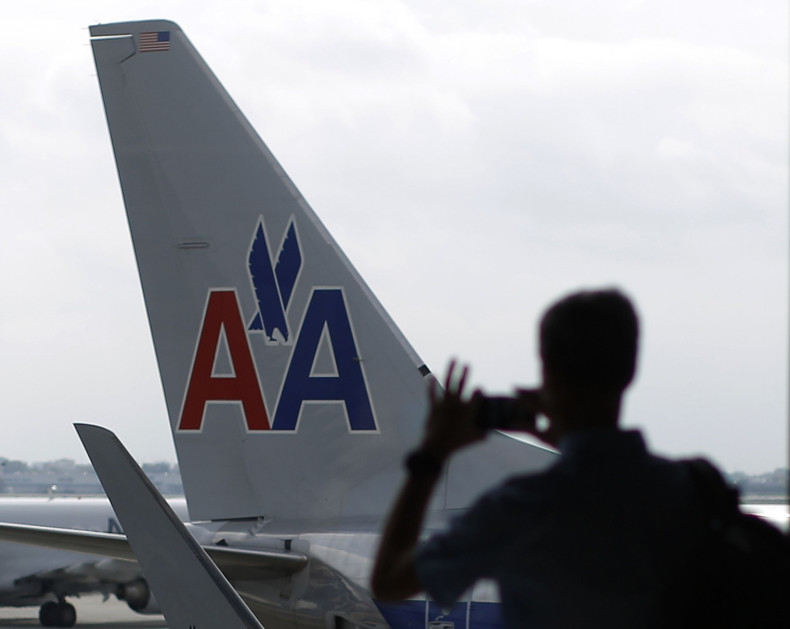 American Airlines has been accused of hitting the panic button too early on a Thursday evening flight from Dallas-Fort Worth to Chicago after a woman became sick on the plane. Flight attendants allegedly kept the woman, who threw up in the aisle, holed up in the plane's bathroom over fears that she might have had Ebola, witnesses have said. However, the airline denies that the crew reacted because of a concern for the virus, according to the Houston Chronicle.
"[The flight crew] told her to stay in the bathroom, and she stayed in the bathroom," Martha Selby, a University of Texas professor and a passenger on the flight, told the Chronicle. "They said, 'We can't let you out.'" The passenger remained in the bathroom for 45 minutes, until the plane landed.
The flight attendants asked the woman, who was black, where she had traveled, Selby said. Some have suggested that the Ebola epidemic in West Africa has fueled racial profiling abroad and led to several instances of black people who become ill in public being treated as if they have Ebola. Selby described the event on American Airlines Flight 2325 as "out of control" and blamed the "hype" over Ebola for prompting the crew to keep the woman in the aircraft's lavatory.
Emergency personnel boarded the airplane after landing, removed the sick passenger and wrapped her things in plastic, according to the Chronicle. The other passengers were asked to remain in their seats.
American Airlines responded that the crew did not react because they thought the woman had Ebola, nor did they lock her in the bathroom against her will. "There were no concerns related to Ebola," an American Airlines spokesperson told the Chronicle. "Our crew saw a very sick woman that probably had food poisoning or something. She was so sick that she asked to remain in the lavatory for the duration of the flight."
The hysteria over the Ebola outbreak in West Africa has led to several false alarms in the U.S., including hospital patients with symptoms similar to those of Ebola whose diagnoses came back negative. The virus has been largely limited to West Africa and is known to have infected only two people in the U.S. Both U.S. cases were related to the Liberian national Thomas Eric Duncan, who died earlier this month in Dallas after traveling to America with the virus.
Last week, an American Airlines flight made an emergency landing in Midland, Texas, after a passenger vomited on the plane. Although health officials quickly ruled out Ebola as the cause of the passenger's sudden illness, paramedics arrived on the scene to discuss Ebola symptoms with the other passengers, according to the Washington Times.
© Copyright IBTimes 2022. All rights reserved.