'American Horror Story' Season 3 Spoilers: Multiple Deaths In Episode 3; What Happened In 'The Replacements' [RECAP]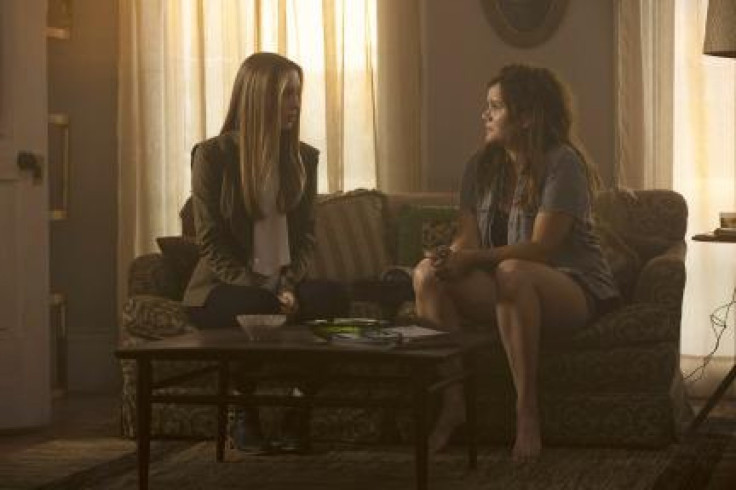 Want to know how Fiona became the Supreme witch? "American Horror Story: Coven" revealed the story behind Fiona's reign in the opening segment of episode 3, "The Replacements."
Fiona's Rise To Supreme
In 1971 New Orleans Fiona was attending Miss Robichaux's Academy. While the rest of the girls were busy burning their bras, Fiona was getting closer to the then current Supreme – Anna Lee. Questioning Anna Lee about becoming the next Supreme, the witch reveals that she was appointed by the council at 29-years-old … and having four or five gifts doesn't make you supreme. Instead you need to be a master of the seven flowers.
Like Fiona now, Anna Lee was fading and battling numerous different illnesses like diabetes, heart trouble and liver failure. But despite how ill she was she wasn't ready to hand over the Supreme thrown. Desperate for the power, a young Fiona slit the throat of Anna Lee. Spalding was the only witness and it's suggested that Fiona cut out his tongue so he wouldn't speak of her horrible act.
Bad News All Around
Fiona goes to the plastic surgeon in order to look younger but receives news so bad that they can't operate – she has cancer. Meanwhile Cordelia is in a similar situation. Visiting the fertility doctor, Cordelia learns that her spell failed and she can't have children.
Not willing to accept the fact that she can't have children, Cordelia decides that it's time for drastic measures and visits Marie Laveau. Marie tells Cordelia that for $50,000 she can perform the spell on the new moon. Marie begins to laugh when Cordelia tells her that she'll get the money and wants to set the appointment. "You're the daughter of my sworn enemy," Marie tells her. Saying that she was born into the wrong tribe, Marie refuses to help Cordelia get pregnant and blames Fiona.
Madame LaLaurie's Transition
After spending 180 years in the box Madame LaLaurie is not adjusting well. The latest thing to get her rattled up? Discovering that a black man is now president.
Fiona's not putting up with any of her racist nonsense and as punishment makes LaLaurie stay in the house as a maid. But when LaLaurie refuses to serve Queenie lunch she decides to make the immortal woman Queenie's personal servant.
The Academy Gets New Neighbors
As if the girls at Miss Robichaux's didn't get in enough trouble they have new neighbors to feud with – Joan and her son, Luke. Luke's a very attractive young man and immediately catches the eyes of Nan and Madison. While Nan takes her clairvoyant route of hitting on Luke (making him his favorite cake), Madison decides to simply try to seduce him with her looks.
Unfortunately both girls fail when Luke's religious mother, Joan tells them to get out of her house and leave her son alone … but not before Madison throws a knife into the wall with her mind and sets the curtains on fire.
The Minotaur Appears
Baking Queenie some pies, Madame LaLaurie becomes frightened when she sees the Minotaur in the window – her former slave that she tortured 180 years ago. LaLaurie runs and hides while Queenie decides to go out and face the beast.
Confronting the Minotaur, Queenie lifts up her dress and begins to masturbate, telling him that they both just need loving. "Don't you want to love me?" she asks him. And while it appears like he might be into it, he quickly throws his hand over her mouth in a menacing way.
Zoe's Plan To Help Kyle
Still grieving over the loss of Kyle (despite bringing him back to life), Zoe decides to visit his mother, who – for lack of better terms – is pretty white-trash-esque. Kyle's mom reveals to Zoe that she was about to hang herself before she called. Realizing that she has to do something to help Kyle and his family, Zoe decides that the best place for "Franken-Kyle" to be is home with his mother.
Zoe heads back to Misty Day's cabin in the woods to find Kyle healed except for the major scars. Explaining that she wants to take Kyle back to his mother, Misty initially refuses. Although she says that Kyle is not ready, it appears as if Misty has grown fond of Kyle herself.
Getting Kyle back to his old house, Zoe leaves him with his mom in the hopes that he'll be safe and start getting back to his old life. But what Zoe doesn't know is that Kyle's mom has been sexually abusing him for years.
She walks in on him in the shower and realizes that his body is not his own. However that doesn't stop her from kissing her son and more.
A distraught Kyle speaks his first words when his mother tries to have sex with him again: "No." Snapping, Kyle grabs a trophy from his room and beats his mom in the head until she's dead.
Fiona's Fears
Not willing or ready to die and hand over her title as Supreme, Fiona begins to fear her successor. After learning that Madison now has the ability to start a fire, Fiona figures that the blonde starlet is the next in line.
Seeing herself in Madison, Fiona offers to help the young witch and takes her out for a few drinks. When the ladies return to the house Fiona starts to go a little crazy. Explaining that the life source of the old Supreme pours into the upcoming Supreme, Fiona whips out a blade – the same blade that she used to killer Anna Lee.
"I was a shitty Supreme," she tells Madison. Handing over the knife, Fiona tells Madison not to be afraid and to kill her "for the sake of the Coven." But Madison refuses and Fiona snaps … using the knife to cut Madison's throat.
While it initially looks like an accident, Fiona tells a watching Spalding to "bury her deep."
What did you think of episode 3 of "American Horror Story: Coven"? Let us know in the comments section.
FOR FREE to continue reading
✔️ Unlock the full content of International Business Times UK for free
offer available for a limited time only
✔️ Easily manage your Newsletters subscriptions and save your favourite articles
✔️ No payment method required
Already have an account?
Log in
© Copyright IBTimes 2023. All rights reserved.