'American Horror Story' Season 4 Spoilers: Sister Mary Eunice And Pepper's 'Asylum' Backstory; Theory On Lily Rabe's 'Freak Show' Crossover From Season 2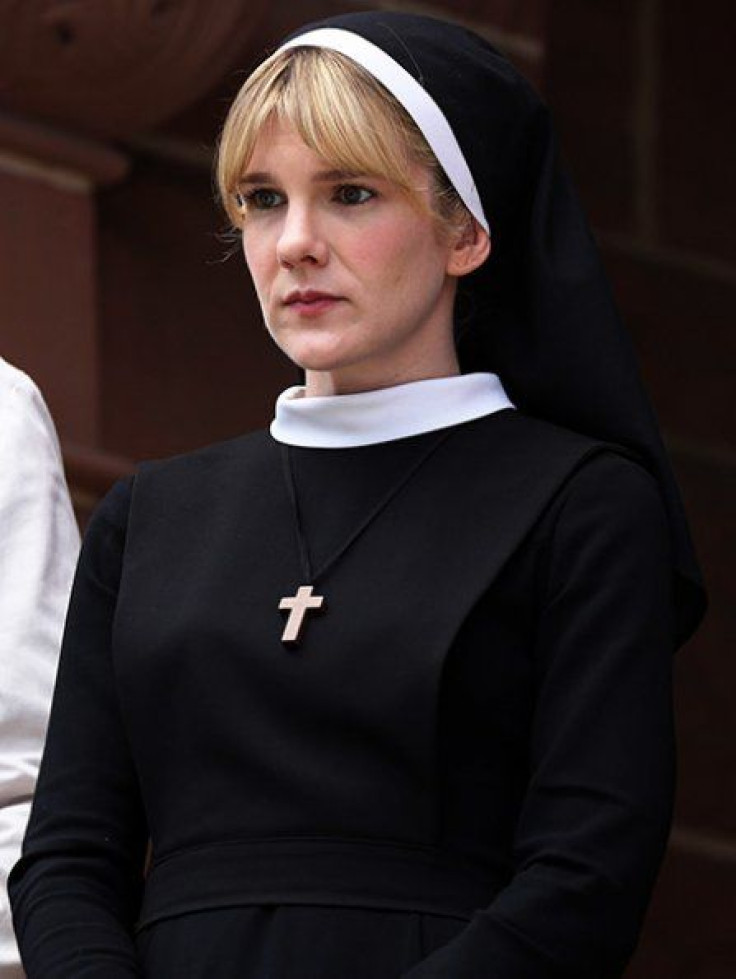 Halloween is the season for tricks and treats, and we promise that the news about to be delivered is definitely the latter. According to Entertainment Weekly, everyone's favorite naughty nun will be making her reprisal in Season 4 of "American Horror Story." Lily Rabe will dust off her habit to portray the role of Sister Mary Eunice in the 2014 installment of "Freak Show."
It was reported that the actress, currently starring in the ABC series "The Whispers," will be shooting her scenes for the eerie drama this weekend, and they can be seen when episode 10 (the show's winter cliffhanger) airs.
But Rabe isn't the only character from "AHS" past to resurface in Season 4. Prior to the premiere of "Freak Show," it was confirmed that Pepper, played by Naomi Grossman, would be one of the acts participating in Elsa Mars' (Jessica Lange) circus. What makes the "return" of these characters so interesting is that we're actually seeing them as they were before we met them behind bars at Briarcliff in "American Horror Story" Season 2.

According to Ryan Murphy, co-creator of "AHS," "Freak Show," which takes place in 1952, acts as a prelude to the show's most frightening season, "Asylum." That means there are approximately 12 years that pass from when Pepper is performing in Mars' show to when she gets shackled away to the mental institution in Boston. "We thought about it long and hard and we decided that it was interesting to do," he explained.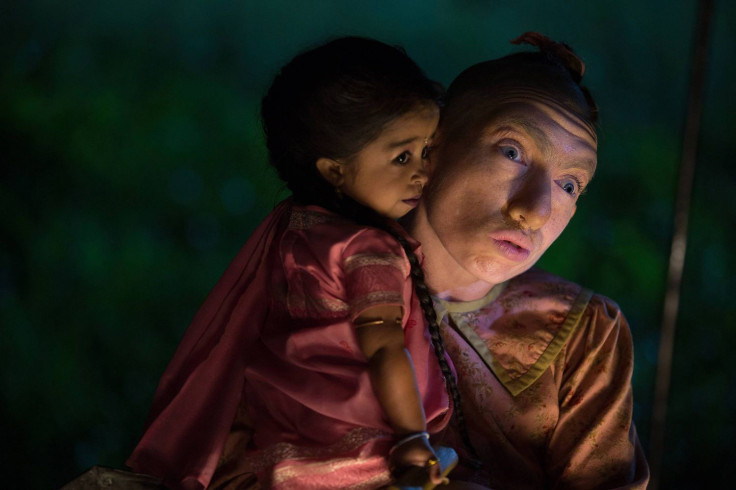 So, what's the connection between the crossings of seasons, as well as Sister Mary Eunice and Pepper? Well, we know a few things for certain, Sister Mary won't be channeling the devil when she stumbles into Mars' freak show tent. It was in "Asylum" that the nun, described as insecure and fragile, had become a victim of satanic possession, ultimately causing her demise. After being used as a vessel by the demon, Sister Mary Eunice grew weary of trying to fight against the darkness, which is when she was pushed to her death over the landing of Briarcliff's staircase to end her misery. The Angel of Death (Frances Conroy) then took Sister Mary Eunice and the demon to the afterworld, ending the evil entity's rein over the sanitarium.
However, prior to becoming a menacing and manipulative tyrant within the walls of Briarcliff, Sister Mary Eunice was acting as a devout employee. In the Season 2 premiere, Sister Mary Eunice greeted Lana Winters (Sarah Paulson) during her visit to allegedly write a story on Briarcliff's bakery. It was during that scene that viewers met Pepper, who appeared to be an innocent soul. But Sister Mary Eunice warned the journalist about Pepper's violent nature. Pepper was committed to Briarcliff Manor after she "drowned her sister's baby and cut off his ears." However, Pepper later denied the charges against her.
"When my sister's husband drowned her baby and sliced his ears off, he told everyone I did it. They tied me up and paraded me in front of the judge; he took one look at the shape of my head and I was locked up for good. That's how it works for us freaks; we get blamed for everything," Pepper explained in"Asylum" before reportedly dying in the winter of 1966.
During episode 4 of "Freak Show," Pepper's innocence, which played a vital part in Season 2, was brought up again when Edward Mordrake (Wes Bentley) was summoned from hell to the Jupiter freak show. Legend has it that the two-faced former freak show performer would collect a soul to take back with him to the grave if any "freak" put on an act on Halloween.

"Before this night is through, I will find my grail, one more pure freak to add to our unhappy number," he said in "Edward Mordrake (Part 2)." Edward visited many freaks from Elsa's (Jessica Lange) show during episode 4, including Pepper and her trusty sidekick Salty (Christopher Neiman). But the playful duo was deemed too guiltless and innocent to be taken to hell, and it was ultimately Twisty (John Carroll Lynch) who joined Edward's ranks. This made viewers wonder whether Pepper was innocent all along. Was she too pure to ever commit the act that she was blamed for in "Asylum"? She was, after all, cleared by the "Demon face," an entity that could allegedly read the truth of a soul and whether or not it was corrupt.
But that still doesn't explain why Sister Mary Eunice would refer to Pepper as a troublesome creature in Season 2. Perhaps the nun will witness something shocking during her stint on Season 4 that will deter her from questioning Pepper's innocence in "Asylum." It's been theorized that maybe viewers will get to meet Pepper's sister, the woman of the child she allegedly murdered, which would help tie up the crossover with a blood-soaked bow.
Sound off with your theories in the comments section below of how Sister Mary Eunice and Pepper are connected from Season 4 of "American Horror Story: Freak Show" to Season 2 "Asylum."
FOR FREE to continue reading
✔️ Unlock the full content of International Business Times UK for free
offer available for a limited time only
✔️ Easily manage your Newsletters subscriptions and save your favourite articles
✔️ No payment method required
Already have an account?
Log in
© Copyright IBTimes 2023. All rights reserved.