'American Horror Story' Season 4 Spoilers: Titles For 'Freak Show' Episodes 1-5 Released Online; Who Is Edward Mordrake?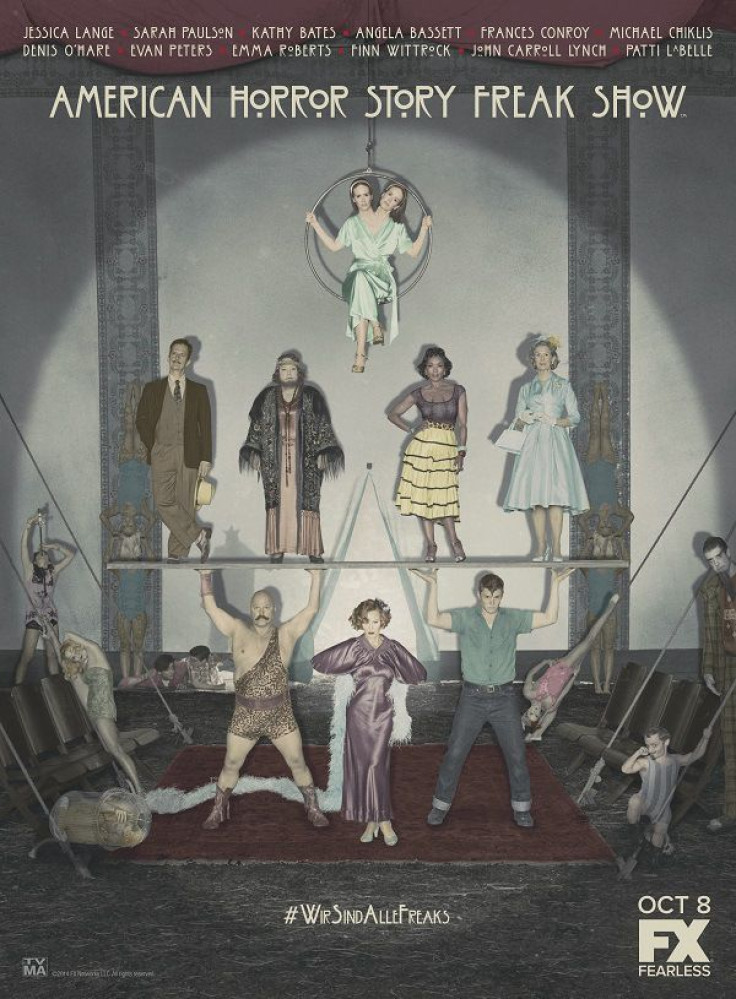 "American Horror Story" fans received a delicious new "Freak Show" treat on Friday. The first five episode titles for Season 4 were released online ahead of the Oct. 8 premiere.
The episode titles are as follows:
Episode 1: "Monsters Among Us" (air date Oct. 8)
Episode 2: "Massacres and Matinees" (air date Oct. 15)
Episode 3: "Edward Mordrake, Pt. 1" (air date Oct. 22)
Episode 4: "Edward Mordrake, Pt. 2" (air date Oct. 29)
Episode 5: "Pink Cupcakes" (air date Nov. 5)
The episode names don't spoil too much about the upcoming season. The premiere, "Monsters Among Us," seems like a suitable title to introduce "American Horror Story" viewers to the performers in "Freak Show." Meanwhile episode 2, "Massacres and Matinees," seems to hint towards the deadly unraveling that fans have come to know and love.
The titles for episodes three and four – "Edward Mordrake, Pt. 1 and 2" – are definitely the most intriguing because it seems to hint at actor Wes Bentley's role. Bentley, who previously appeared in the first "Hunger Games" movie as Head Gamekeeper Seneca Crane, will be tackling a character named Eddie in a multi-episode arc. TV Line described Eddie as a "dark tormentor from Kathy Bates' past" who is "hell-bent on revenge."
The character Eddie, is potentially short for Edward Mordrake. For those unfamiliar with the name Edward Mordrake, he was a man who reportedly lived during the 19th century and suffered from diprosopus, a rare congenital disorder where parts or the whole face are duplicated on the head. Mordrake claimed that his "demon face" would "whisper to him at night" and wanted the second face removed. Doctors allegedly refused to attempt it, and Mordrake committed suicide at 23-years-old. It's argued today about whether Edward Mordrake was a real or fictional man. However diprosopus is a real disorder.
Could Wes Bentley's character potentially have two faces? And could the character be somehow tied to Denis O'Hare's "collector of freaks" character? The "American Horror Story" alum tweeted a photo in mid-August of the "Edward Mordrake, Pt. 1" script, posting that it was his first day on set. Fans will have to wait until the Halloween two-parter to find out.
As we previously reported, the fourth installment of the FX miniseries will be set in 1952 in the "quiet, sleepy hamlet" of Jupiter, Florida. But in usual "American Horror Story" fashion nothing will stay quiet for long. The synopsis teases that, "a troupe of curiosities has just arrived to town, coinciding with the strange emergence of a dark entity that savagely threatens the lives of townsfolk and freaks like." Season 4 will follow the performers and their "desperate journey of survival amidst the dying world of the American Carny experience."
"Amercican Horror Story: Freak Show" will premiere on FX on Wednesday, Oct. 8, at 10 p.m. EDT.
© Copyright IBTimes 2023. All rights reserved.