'American Idol': Katy Perry Falls Out Of Chair While Dressed As Mermaid [Watch]
Katy Perry fell out of her chair while dressed as Disney Princess Ariel on "American Idol." Ryan Seacrest, the competition's host, was busy addressing the viewers when the hilarious incident took place.
The 37-year-old singer was celebrating Disney Night on the show, due to which she dressed up as the main character from "The Little Mermaid." In the 54-second clip "American Idol" shared on its official YouTube account Monday, Perry's mermaid tail can be seen resting on the judges' table as the host continues to speak.
However, Seacrest is suddenly interrupted by a loud thud followed by some noise from the crowd. Visibly shocked yet eager to help, the host walks closer to the judges' table, where the camera pans to show Perry already on the floor. Judges Lionel Richie and Luke Bryan can then be seen trying to lift the "Roar" singer.
Things don't seem that easy, however. As revealed in the next scene, which shows what's happening behind the table, Perry is having a hard time standing back up due to the movement limitations imposed by her costume. Good thing, though, her fellow judges and the host still manage to lift her, and as they do, Perry laughs and even waves a hand in the air.
Eventually, Bryan makes her sit on her chair, where she is able to take a few sips from her drink. Meanwhile, the crowd begins chanting the singer's name over and over as she waves at them. Toward the end of the clip, Richie reacts to the incident, saying, "I love it, I love it."
Fans took to the video's comments section to share their reaction to the incident.
"Luke and Katy are such siblings lol. His first instinct wasn't to help her up and make sure she's ok, it was to laugh," one of them wrote, while another fan commented, "One of Katy Perry's funniest moments ever. Also love the Ariel costume."
It is not the first time Petty made headlines for having an incident on "American Idol." In March, the "California Gurls" singer had a wardrobe malfunction, during which her red leather pants ripped open.
The singer later tweeted a video of the incident, which apparently took place while she was performing "Teenage Dreams" on the show. The clip even shows her asking the production crew to give her some tape to fix her pants.
In the video's caption, she wrote, "ima get ur heart racing in my skin-tight jeans on #americanidol tonight tune in now for a RIPPING good time."
Perry has been a judge on "American Idol" since 2009. The show, which is now on its 20th season, airs every Sunday and Monday, 8 p.m. ET, on ABC.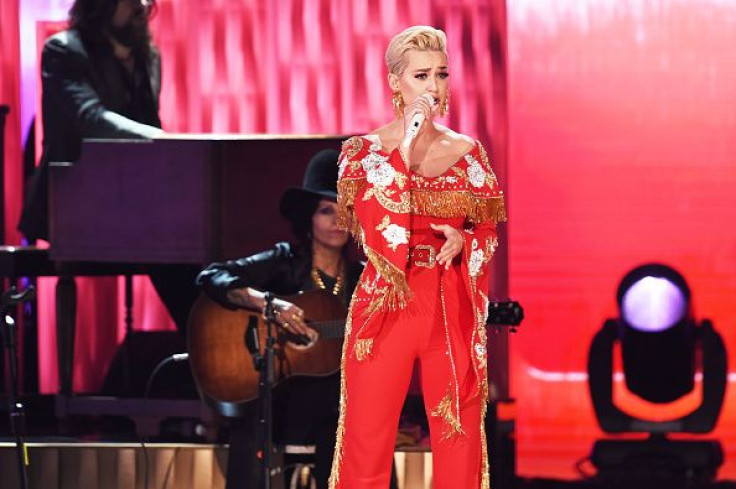 © Copyright IBTimes 2023. All rights reserved.