'American Idol' Season 15 Spoilers: Top 5 Best Performances From Episode 13, Showcase No. 3 Night [VIDEO]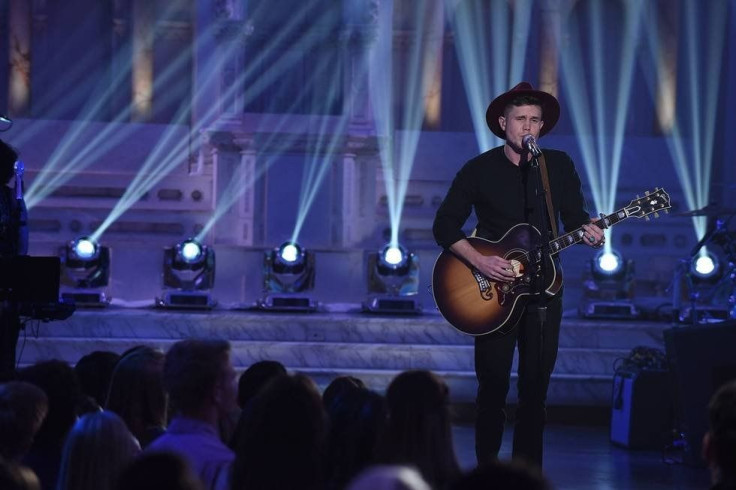 "American Idol" is slowly narrowing down the list of aspiring singers hoping to be crowned the Season 15 winner. On episode 13, which aired Wednesday, 12 of the remaining Top 24 performed for the third Showcase Solo Round.
Each contestant was critiqued by the judges and will have a chance to take center stage again Thursday night to sing a duet with a fan-favorite "American Idol" alum. Among the former contestants returning to the show are Chris Daughtry, Constantine Maroulis, Kellie Pickler, Jordin Sparks, Haley Reinhart and David Cook. Following the duets, judges Jennifer Lopez, Harry Connick Jr. and Keith Urban will cut five contestants.
The judges will have a tough decision to make Thursday, but below are five contestants we think nailed their solo performance and should move on to the next stage of the competition.
1. Olivia Rox
Olivia performed "Confident" by Demi Lovato and received a standing ovation from Urban. She started off singing the song a little slower than Lovato's version but picked up the tempo after showing off her guitar skills. All the judges loved the performance and agreed her rendition was good.
2. Trent Harmon
Trent really showed off his vocal skills with "What Are You Listening To" by Chris Stapleton. His performance wasn't upbeat or flashy, but his passion and guitar skills helped win over the judges, especially Lopez who told him that when he sings it "gets to [her] heart."
3. Dalton Rapattoni
Dalton's rocker vibe is really winning over the judges. On Wednesday's show he sang Billy Idol's "Rebel Yell," which left all the judges thoroughly impressed. Lopez seemed to be a big fan and was seen dancing in her chair throughout his performance. She said it was a great performance, while Urban and Connick Jr. praised him for doing a great job.
4. CJ Johnson
CJ performed the popular ballad "I'll Be" by Edwin McCain. Even though it wasn't the best performance of the night, all the judges said he did a good job and it was a good song choice for his voice.
5. Lee Jean
Lee showed off his guitar skills singing Ed Sheeran's "Runaway." The young crooner didn't win over Lopez and Urban with his performance, but Connick Jr. said it was one of the best solos of the night.
The contestants that make it through Thursday's elimination will round out the Top 14, joining MacKenzie Bourg, Gianna Isabella, La'Porsha Renae, Jeneve Rose Mitchell, Sonika Vaid, Avalon Young and Thomas Stringfellow.
"American Idol" airs Wednesdays and Thursday on Fox at 8 p.m. EST.
© Copyright IBTimes 2023. All rights reserved.