American Music Awards: BTS Members Exchange Phone Numbers With Lizzo At Harry Styles' Concert
BTS members had some fun at the American Music Awards 2021 on Sunday. They reportedly got to meet Lizzo during Harry Styles' concert and exchange phone numbers with the singer.
"It was fun" meeting Lizzo over the weekend, BTS member J-Hope said in an exclusive interview with ET. The 27-year-old South Korean rapper also disclosed that he danced so much during the concert that his shirt was covered with sweat.
The American Music Awards 2021 was held at Microsoft Theater in Los Angeles on Sunday.
When host Cassie DiLaura asked the BTS members if they have discussed anything regarding the potential collaboration between the singer and the boy band, Park Ji-min explained that the music was so loud that they couldn't really have a conversation.
J-Hope chimed in and noted that they did exchange phone numbers. RM also praised Lizzo for being "so open" about the collaboration, adding, "She's so fire."
The boy band members added that they were waiting to perform at the American Music Awards "for so, so long time."
"It's like a dream," Suga said. RM agreed and explained how they had dreamed about performing at the American Music Awards. The 27-year-old singer also thanked the fans, who are popularly known as ARMYs on social media.
"We actually dreamed of this dream, so it's crazy!" RM noted. "We're just here to have a good time. With the ARMYs, with actual people, not AIs!"
ET shared a video of the interview on Twitter and wrote, "From jamming with Harry Styles at his #LoveOnTourLA to finally performing for their ARMYs at the #AMAs — @bts_bighit are living the dream."
The boy band, which consists of seven members – V, Suga, Jin, Jungkook, RM, Jimin and J-Hope – shared a series of photos on its official Twitter handle featuring Lizzo. They captioned the photos, "We met @lizzo."
Lizzo requoted the tweet and wrote, "I met @BTS_twt."
Lizzo also shared a screenshot that showed BTS' official handle was following her on Twitter. "Did we just become BFFS?" she wrote with a crying and red heart emoji.
BTS performed "My Universe" with rock band Coldplay and "Butter" at the event.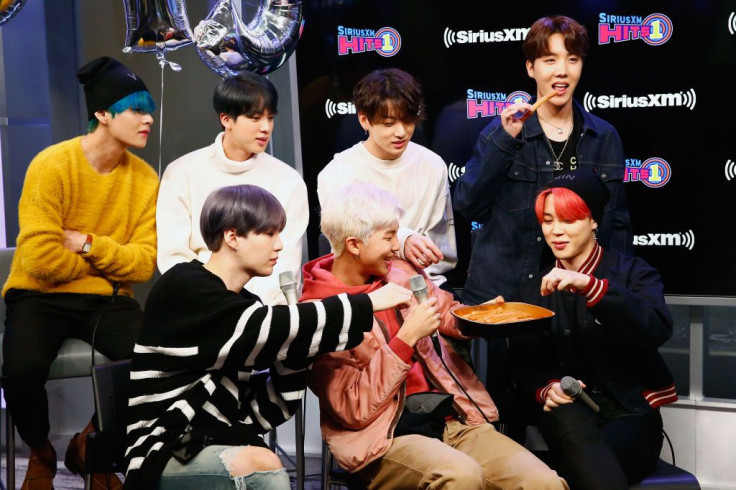 © Copyright IBTimes 2023. All rights reserved.