BTS Arrives In Los Angeles For American Music Awards, Other Shows; Fans React On Twitter
K-pop superstars BTS have arrived safely in Los Angeles after a long flight from Seoul ahead of their upcoming appearances at the 2021 American Music Awards, four concerts in Sofi Stadium on Nov. 27, 28 and Dec. 1 and 2, and the annual iHeartRadio Jingle Ball Tour.
After nearly 11 hours on the plane, the famous septet touched down at LAX safely, according to a Weverse update by Jin who wrote, "We've arrived safely ARMY heart."
The singers' arrival was met with frenzy among fans and paparazzi who trooped to the airport to see the world-famous Bangtan boys.
"#WelcomeToLA_BTS" also trended worldwide on Twitter on Thursday as loyal fans, known as ARMY, welcomed back the "Butter" singers overseas.
Twitter user @bts_hj7 tweeted about the route BTS took upon arriving at the airport to avoid the mob, saying, " LAX took BTS to a private entrance from the airway so that they won't get crowded or mobbed at the airport. After 2 years finally BTS will be able to see Army's live! Please get some rest & have the greatest time in LA take care and stay safe! "
The tweet included a snap of the singers in fashionable getups, which was also a hot topic on social media.
Meanwhile, Twitter user @Bangtan_Style07 uploaded a photo of the various outfits worn by BTS members with references to luxury brands that sell the items, writing, "BTS AIRPORT FASHION 211117 Which fashion item is your favourite?"
Amid screaming fans and heavy security, "Squid Game" cosplayers also waited for BTS at Incheon airport as they departed for L.A. on Wednesday as seen in this tweet.
"Ayo which one of y'all cosplayed as the Squid Game Dudes at the airport," user @JeonSmhh said.
Ahead of their concerts, BTS has several performances and appearances scheduled this month.
On Sunday, they will be performing the remix version of "Butter" with Megan Thee Stallion at the 2021 American Music Awards, followed by a studio performance of "Permission to Dance" on "The Late Late Show With James Corden" on Nov. 24.
The "BTS Permission to Dance On Stage – LA" comes next at the Sofi Stadium on Nov. 27, 28, Dec. 1 and 2 before the group heads to the Los Angeles stop of the annual iHeartRadio Jingle Ball Tour on Dec. 3.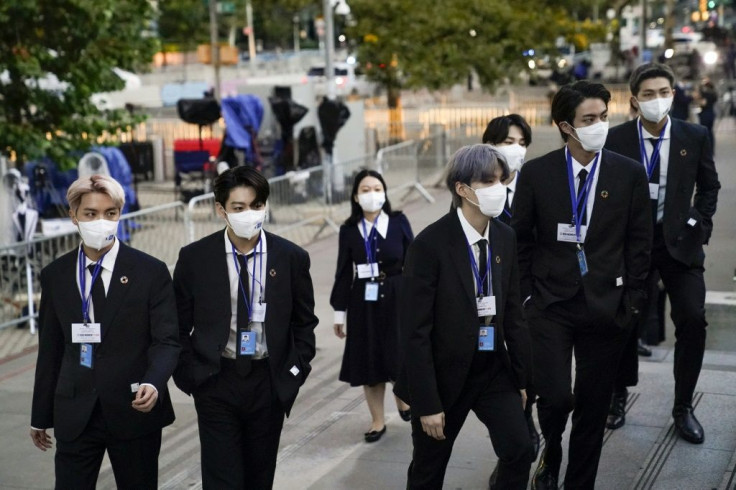 © Copyright IBTimes 2023. All rights reserved.