'American Ninja Warrior' 2015 Results: Orlando City Finals Recap; Highlights From Season 7, Episode 10 [VIDEO]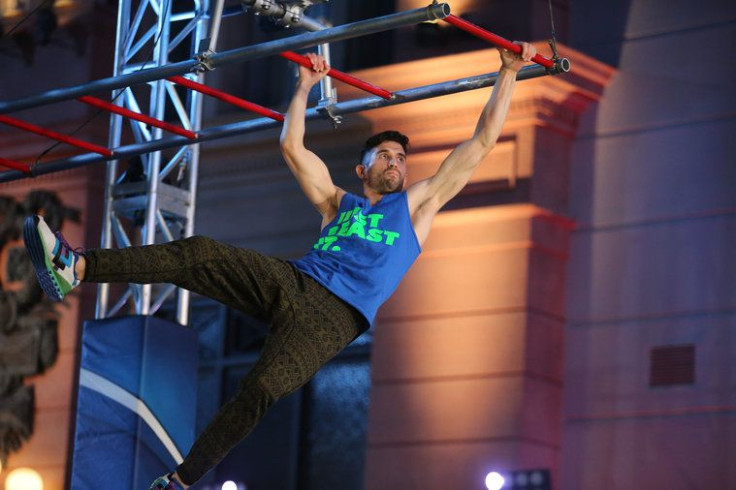 Season 7 of "American Ninja Warrior" continued Monday as the NBC series shifted to Orlando for the next leg of the city finals. Over 30 athletes returned to try and punch their ticket to the national finals and Mt. Midoriyama, but only 15 spots were up for grabs. Who would advance to Las Vegas?
The road to Mt. Midoriyama would be difficult in Orlando as contestants faced the quintuple steps, the rolling log, the paddle boards, the tire swing, the double tilt ladder and the warped wall, as well as the salmon ladder, cannonball alley, the double helix and the formidable invisible ladder.
There was no competition for the run of the night. That honor belonged to James "the Beast" McGrath. The movie theater concessions worker and four-time Mt. Midoriyama veteran made the Orlando course look easy through the first nine obstacles, but when he reached the invisible ladder -- a new new obstacle this season -- he got stuck. However, where many would have given up and dropped down, "the Beast" refused to quit. McGrath continued to take short pauses to catch his breath -- somehow managing to hold on -- before lunging further upwards toward the platform, eventually using his legs to pull himself up the last foot to finish with the fastest time of the night.
Watch James McGrath's Orlando city finals run below:
In fact, only one other athlete in Orlando was able to complete the course, Adam Arnold, who finished almost a minute slower than McGrath at just over six minutes and 42 seconds.
The invisible ladder proved too much for Flip Rodriguez. The national finals veteran made it to the top of the difficult obstacle, getting his foot on the victory platform, before falling to the ground at the last second. However, he did make it far enough to easily qualify for Las Vegas.
Watch Flip Rodriguez's Orlando city finals run below:
In addition to McGrath, Arnold and Rodriguez, 12 more contestants qualified for the national finals, including Drew Drechsel and Neil Craver -- who reached the invisible ladder -- Travis Rosen and Gordon White -- who reached the double helix -- and J.J. Woods, Sean Clayton, James Bogle Jr., Hunter Sipes, Eddy Stewart, Rich Shoemaker, Jo Jo Bynum and Alexio Gomes -- all of whom went out on cannonball alley.
Watch Neil Craver's Orlando city finals run below:
There will be two more city finals episodes before "American Ninja Warrior" heads to Las Vegas to give its best a shot at Mt. Midoriyama. Next up is Pittsburgh. Who will make the cut? Stay tuned to find out!
"American Ninja Warrior" airs Mondays at 8 p.m. EDT on NBC. A replay of of the Orlando city finals will air on Esquire Tuesday at 8 p.m. EDT.
© Copyright IBTimes 2023. All rights reserved.