'America's Got Talent' 12: Darci Lynne Farmer, Evie Clair Dominate Semifinals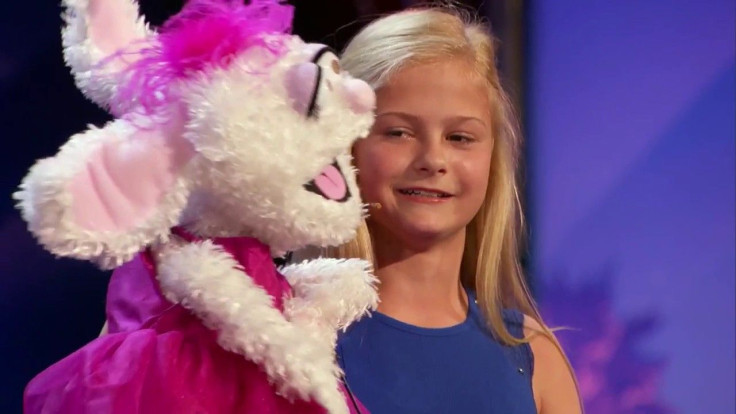 "America's Got Talent" Season 12 recently saw 11 contestants perform in the semifinals. And by the looks of it, majority of the five acts that will make it through to the grand finals will be singers.
Mel B's golden buzzer pick, Darci Lynne Farmer, brought a new puppet to the Dolby Theater stage. The elderly puppet revealed that she has a crush on judge Simon Cowell and flirted with him by singing him a song. Farmer received rave reviews from the judges, and Gold Derby has been predicting her big win since the beginning of the season.
Meanwhile, Evie Clair, 13, gave an emotional performance during Tuesday night's semifinals. The young singer once again dedicated her song to her dad, who is currently battling stage 4 colon cancer. Clair brought some of the audience members to tears, and Cowell guaranteed that Clair's dad is very proud of her even though he couldn't be with her at the live show.
Several other singers also took the stage this week in "America's Got Talent." DJ Khaled's golden buzzer recipient, Chase Goehring, sang an original song about love and relationships. He also received positive comments from Mel B, Cowell, Heidi Klum and Howie Mandel.
Yoli Mayor performed "Say You Won't Let Go," and brought Klum to tears. The 21-year-old had an emotional journey on the show this season after almost being booted off post-quarterfinals. Mayor was one of the three contestants who battled it out live for the Dunkin Save, and the judges decided to keep her.
Guest judge Seal's golden buzzer choice, Johnny Manuel, also surprised everyone with his original song. This is the first time that Manuel performed an original track in "America's Got Talent." Cowell has dubbed Manuel as a "diva" since his audition, and he once again proved that he is one with his performance.
Other non-singing acts that performed live for America's vote included comedian Preacher Lawson, dog act Sara & Hero, magician Eric Jones and roller skaters Billy & Emily England. Unfortunately, only five of them will advance to the grand finals next week.
"America's Got Talent" Season 12 airs Tuesdays and Wednesdays at 8 p.m. EDT on NBC.
© Copyright IBTimes 2023. All rights reserved.